Now you can take your holiday dream for a trial run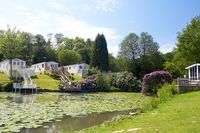 Couples tempted by the idea of owning a holiday home, but uncertain if reality will match the dream, can now put their fantasies to the test.

Park Holidays UK will hand over the keys to a caravan holiday home to would-be buyers, and provide all the privileges of ownership, for a 48-hour trial run.

The two-night break, subsidised by the company, will cost couples just £59.00 at any of its 23 highly-acclaimed holiday parks in Devon and the South of England.

Promising absolutely zero sales pressure, the Park Holidays UK says the experience will allow people to take a real-time reality check on the benefits on offer.

After a VIP check-in to their chosen park, prospective purchasers will be shown around the fully furnished holiday caravan or lodge they will "own" for the next two days.

An entertainment pass, the same as provided to owners, will allow the couple free access to the park's nightly shows - and all the leisure facilities, including pools.

An experienced home-ownership consultant from the park will be put at the couple's disposal for answering questions on any point during the stay.

"Our group has never been in favour of high-pressure selling, and prefers just to let our product talk for itself," said Tony Clish, director of Park Holidays UK.

"This approach has helped us achieve customer retention figures which are among the highest in the parks industry, with many families choosing to remain with us for literally decades.

"That's why we want to ensure that new buyers go in with their eyes open, and by becoming honorary owners for two days they will enjoy precisely that experience.

"We can also put them in touch with other owners who will be able to give a completely impartial view of their lifestyle and what they find especially appealing about the park," said Tony.

Park Holidays UK recently became one of the first in Britain to win recognition under a new national accreditation scheme for parks which sell caravan holiday homes and lodges.

The official National Caravan Council (NCC) kitemark, launched at the start of 2013, is awarded to parks which adopt a stringent new code of practice for treating customers fairly.

The code, modelled on guidelines from the Office of Fair Trading, lays down assurances and safeguards during the sale of a holiday home, and throughout the lifetime of customers' ownership.

Park Holidays UK says its two-day ownership experiences are available during week-days in the run-up to the main summer holidays, and couples can book up to five separate "dry runs".

More information is available on the company's website at ParkHolidays.com.