Open weekend for luxury coastal properties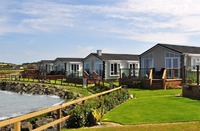 Leading holiday and residential park operator Lifestyle Living Group is inviting prospective buyers to view a range of luxury homes, at a special open weekend at its two sought-after Bangor parks.
On the 19 and 20 July, prospective buyers will be able to visit the Sea Haven Park Homes development and the Windsor Holiday Park in Groomsport, near Bangor, on stunning coastline.
Those looking for a second home retreat or residence for their retirement will be able to view exclusive seafront properties, such as the Pathfinder Special, which will be open for viewings throughout the weekend. There will be light refreshments and entertainment across the weekend, offering something for all the family.
Visitors to the neighbouring Sea Haven and Windsor parks will be able to see first hand what the popular developments have to offer, such as unrivalled sea views to the Copeland Islands and Carrickfergus, coastal walks, unspoiled countryside surroundings and convenient transport into Bangor.
Tony Barney, owner and chairman of Lifestyle Living Group commented: "The Open Weekend offers a fantastic opportunity to showcase the wonderful facilities and luxury properties on offer at Sea Haven and Windsor.
"We are welcoming the public along to see what makes this area the perfect choice for an affordable retirement or relaxing holiday getaway."
Properties currently for sale at Sea Haven Park Homes are all available through the Lifestyle Living Part Exchange Scheme.
Sea Haven Park Homes and Windsor Holiday Park are situated just off the A2, within Groomsport. For further information on the open weekend or properties available for sale throughout Lifestyle Living Group, visit lifestylelivinguk.com.