Nissan Safety Shield - Breakthrough technology for the B-segment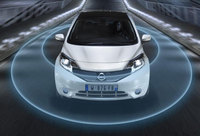 Creating innovative technology that makes life easier and safer for drivers has always been a Nissan passion. With the new Note, this commitment to introduce useful and accessible technologies has been taken to another level.

During the launch event for the new Note, journalists have been among the first to experience Nissan Safety Shield - a network of three innovative safety features that combine to provide drivers with exceptional visibility and protection. Nissan Safety Shield is yet another premium technology to be introduced to the B-segment by Nissan.

Unlike rival systems that rely on costly multi-camera and radar systems to monitor movements around the car, all three elements of the Nissan Safety Shield work using data sent from a single wide-angle rear-view camera. To ensure the lens is kept clean at all times, Nissan has developed a unique 'wash and blow dry' intelligent cleaning system that uses water and jet of compressed air.
The Nissan Safety Shield comprises the following three systems:

Blind Spot Warning: If a vehicle is detected in either blind spot at the rear of the Note, a warning light illuminates in the glass of the Note's wing mirror. If the driver indicates to change lanes and the system detects a vehicle in the danger area, the light flashes and an audible warning is given.

Lane Departure Warning: Advanced computer programming detects even faint road markings allowing the car to determine if it is drifting out of position without indicating. If it does, a warning is given to the driver to correct their road position.

Moving Object Detection: This system gives an audible and visual alert if someone or something is moving behind the car, for example if a child is walking towards your reversing Note. Images from the camera are displayed on the 5.8-inch NissanConnect screen.