Tapas Revolution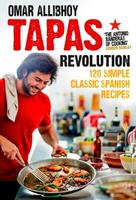 Young, talented Spanish chef, Omar Allibhoy, is creating a frenzy on the UK food scene. He is a man on a mission, determined to make Spanish food as popular in the UK as Italian. His mantra is 'TAPAS not PASTA'!
At the age of 29, Omar Allibhoy is the owner of the critically acclaimed Tapas Revolution restaurants in Westfield and Bluewater shopping centres. He believes that anyone can cook Spanish food and wants us all to choose chorizo and tortilla over spaghetti and lasagne. His quest to bring Spanish cooking to the UK even led him to tour the country on his motorbike, cooking Spanish food for the people he met. The trip caused a sensation in Spain where they dubbed him 'the Spanish Jamie Oliver'.
Every revolution has its manifesto and in August Ebury Press is delighted to publish Omar's debut book, Tapas Revolution. Packed with over 100 recipes, dazzling photographs and easy-to-follow instructions, it is sure to become the breakthrough book for Spanish cookery. It reflects Omar's passion for the cuisine and shows the reader how to create mouth-watering tapas with minimum fuss and maximum flavour. Whether it's vegetables, salads and rice, or eggs, fish, meat and desserts, the emphasis is on simplicity: discover the uncomplicated delights of a potato tortilla, and new twists on favourites such as croquetas, pollo con salsa, patatas bravas and paella. Omar believes Spanish food should be accessible to everyone, and as such, virtually all of the recipes in Tapas Revolution can be created using ingredients that are available in any major supermarket, or found at home in your cupboard.
Tapas Revolution will inspire people to enter this brave new world of cooking and incorporate easy, fast Spanish classics into their everyday cooking. It's a truly exciting debut from this new cookery star.
For more information, visit tapasrevolution.com.