Sofia Dourvari hits the catwalk at London Fashion Week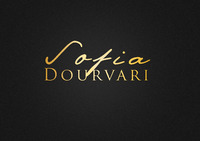 A Manchester fashion designer has secured an exclusive catwalk show at London Fashion Week 2013 Off Schedule events. Sofia Dourvari (the new brand name for Sofia Couture) will showcase her dazzling new ladieswear lines for AW13/14 on 15th September 2013, previewing 15 pieces.
She will also be exhibiting at the event on both 14th and 15th September 2013, highlighting her brand new lines and a selection of principal pieces from previous collections.

The designer behind the luxury ladies wear brand is Sofia Dourvari, age 30, originally from Athens, Greece. Many of the designs hark back to the designer's Greek roots with inspiration taken from Greek architecture, flowing lines inspired by the sea and wind.
The Sofia Dourvari collection will consist of black and white leather ensembles, cocktail dresses and statement pieces all showcasing her signature elements: fishtails, ruffles and gathers, structured and elegant flowing dresses, low scoops, and geometric shapes.
Colour is a central theme to the show with graceful, feminine pieces including black, bright red, gold and silver garment details in luxurious fabrics, metallics, faux leather, duchess satin, taffeta, crystal organza and chiffon.
She officially launched the high-end, luxury range of women's clothing in 2011 and has already hosted and participated in several successful and acclaimed fashion shows.

Sofia says: "It is a fantastic honour for me to feature the Sofia Dourvari collection at London Fashion Week's Off Schedule Shows. This is my first London show and I'm hoping to build on the success of my previous fashion shows in Manchester and Birmingham. They were all well-attended with many positive reviews from fashion bloggers, websites and wider regional and national press.
"Fashion and design have always been my passions and my philosophy is to create elegant feminine designs that are creative, unusual and suitable for a wide range of occasions, from parties, galas and events, to weddings and formal dinners and even for the office. I like to create timeless designs suitable for ladies of any age, in both classic, practical shapes, in either pencil or skater-style, as well as dramatic floor-length gowns."
The up and coming designer has lived and worked in Manchester for ten years and she is looking to break into the vibrant UK fashion community. Sofia studied Fashion Design at Salford University then went on to complete a Masters in Textiles Technology at the University of Manchester. During her studies, she won the Best Designer Award in the International Student Festival (2007).
Sofia is keen to secure listings in retail outlets and online so is happy to receive enquiries from store owners, ladieswear buyers and fashion websites.

All items are bespoke and Sofia Dourvari offers an alterations service on all garments, making them truly customised and unique to the wearer.
London Fashion Week '13 Off Schedule shows will take place on 14th and 15th September at the Grand Connaught Rooms, 61-65 Great Queen Street, Covent Garden, WC2B 5DA. The shows are organised by Fashion's Finest, a platform for new and established designers to showcase their ranges.
For more details on the London Fashion Week 2013 Off Schedule Shows and to purchase tickets, visit fashionsfinest.com/events-tickets/fashion-week-shows.
For more information on Sofia Dourvari, visit sofiadourvari.com.