Shop 'til you drop in Bangkok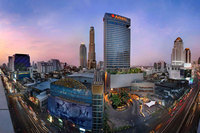 For an unforgettable retail experience, look no further than Bangkok, the urban metropolis Thai capital city. With diverse merchandise, a buzzing atmosphere and a chance to experience the local culture, shopping in Bangkok will not disappoint, no matter what the budget.
Unwind and re-energise after a hard day splashing the cash at an ideally located Amari base.

With Amari Watergate Bangkok located in the prime shopping area of Pratunam and Amari Boulevard Bangkok in the heart of the vibrant street of Sukhumvit Soi 5, both provide the ideal relaxation pad for recreational shopaholics who don't want to stray too far from the centre of the action.

Shopping in Bangkok is an experience set to excite all retail therapy lovers with options ranging from bartering at zigzagging markets to browsing through designer labels at world class malls. All options are great value and the bargains available will be sure to set even the most experienced customer's heart a flutter.

Just some of the options on offer to ignite the senses in the energetic city include Chatuchak weekend day market, a must for shopping enthusiasts or even those after a cultural insight. Chatuchak is the world's largest weekend market and is home to over 8,000 stalls offering goodies ranging from clothing, antiques and art, to traditional souvenirs to take home. The very adventurous may want to try one of the local delicacies on offer include stir-fried insects, or perhaps just relax in one of the quirky local bars.

For a night time adventure, head to Klong Thom, a convenient 10 minute taxi ride from Amari Watergate. Klong Thom is best known for selling an assortment of second hand goods, giving a great chance to rummage for one-off and vintage items. For traditional flora, try Paak Khlong Talaat market which sells an assortment of exotic flowers including orchids, roses and jasmine. Pick up a hand-woven flower garland, traditionally viewed as good luck, for as little as 30 Baht (approximately 60p).

On the other end of the shopping spectrum, experience a welcome respite from the daytime heat under an air-conditioned roof at one of the city's contemporary shopping malls, embodying the finest fashion stores and international brands.

Amari Boulevard Bangkok is only a short stroll away from Terminal 21, a nine floor retail haven, decorated to the theme of streets around the world. With over 600 shops, there should be something to provide excitement for even the most reluctant shopper.

Located in one of Bangkok's key shopping areas, Amari Watergate Bangkok offers shopping diversity moments from its doorstep. The Pratunam market area is merely seconds away, a bustling mix-match of stalls selling a huge variety of merchandise at wholesale prices. Be prepared to barter in order to walk away with a bargain. Just across the road, visitors can find the Platinum Fashion Mall, Siam Centre and Central World malls, perfect for bagging a designer treat or merely soaking up the atmosphere.

Alternatively, venture a little further out of the city and take a short taxi ride to Asiatique riverside complex, where a night bazaar, fine dining options and a mall have been combined to create a prime destination for the shopping and dining needs of both visitors and locals alike. Open from 5pm, spend the evening exploring over 1,500 boutiques, rummaging for clothes, accessories and souvenirs to take home. Afterwards, relax and rest sore feet by indulging in a choice of over 40 delicious traditional Thai, Japanese or Italian restaurants. For a sample of Thailand's night life and an entertaining way to top off a Bangkok adventure, visit Calypso at Asiatique, renowned as the best cabaret show in Thailand.

A shopaholics paradise, discover the treats and treasures on offer in Bangkok with these great package offers. Just remember the Thai Baht and comfy shoes ….

Amari Watergate Bangkok: Travelbag is offering a seven night stay at Amari Watergate Bangkok (amari.com/watergate) from £669 per person, based on two sharing a superior room on a room only basis. Price includes return flights from London Heathrow with Oman Air. For travel in July/August 2013. To book, visit travelbag.co.uk.

Amari Boulevard Bangkok: Room only rates start from 2,450 THB (approximately £50) per night.
For further information, visit amari.com.