Win a new C4 Picasso with a summer round of Citroen Seekers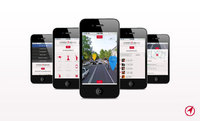 Citroen Seekers is returning this summer with an even more addictive version of the popular online game to give players the chance to win a New C4 Picasso.

The game starts at 10am on Tuesday 16 July and will run until 09:59 on Tuesday 30 July. To find out more about the latest game featuring the New C4 Picasso, head to seekers.citroen.co.uk or search for Citroen Seekers on Facebook.

Developed by specialist multiplatform digital agency Candyspace and OMD UK, Citroen Seekers combines the Facebook and Google Street View platforms and lets users 'seek' and score points for collecting markers across a virtual world. The game previously saw more than 40,000 people play for the chance to win a brand new DS3 Cabrio. People enjoyed it so much that they spent over 62,000 hours playing the game, collecting 4 million DS3 Cabrios in the process. This led to Citroen Seekers for DS3 Cabrio winning best Integrated Mobile Strategy/Campaign at the recent Marketing on Mobile Awards.

With an updated gameplay experience, players must this time collect points from the streets of the world to unlock special missions and explore new Street View locations. Players can also collect awards and achievements that can be shared amongst players and friends, fuelling friendly competition and sustained engagement. Every 100 points collected entitles players to one entry into the prize draw to win a New Citroen C4 Picasso e-HDi 115 Airdream 6-speed manual Exclusive+. The more points collected, the greater the player's chance of winning.

The innovative option of both web and mobile gameplay means users can play from their computer at home or on the move with their smartphone. Users can transfer seamlessly between mobile and online, thanks to real-time, back-end integration.

Tom Thorne, Managing Director for Candyspace added; "Gamification has delivered fantastic results for Citroen, with the recent Seekers game providing 62,000 hours of engagement with the brand with over 40,000 players. The latest extension of the platform takes users on adventures all over the world; Sydney, Cape Town and New York to name just three - where they will face intriguing new challenges, all from the comfort and safety of the expansive interior of the New C4 Picasso. The new game features custom panoramas in Google Streetview and exciting brand new gameplay mechanics. This round of Seekers is going to be bigger and better than ever."

To watch the teaser video see: youtu.be/9Kq6D5Z4560.