Summer fashion faux pas - thong bikinis for women, socks and sandals for men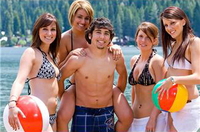 The biggest summer fashion faux pas have been revealed in a poll – topped by thong bikinis, socks with sandals and tight swimming trunks. Researchers quizzed 2,000 Brits to uncover the top beach no-no's for both men and women with muffin tops, saggy swimsuits and sun burn also among the list.
Barely-there string bikini bottoms were named as the biggest summer fashion disaster for women, while socks and sandals were top of the men's 'What Not to Wear' list.
It also emerged that half of all men admit to committing one of the summer fashion faux pas at some point in their life, along with 56% of women.
Michele Duncan for XTRA LIFE LYCRA fibre, which commissioned the study, said: "When Brits go on holiday they do tend to adopt a more laid-back attitude towards their style – perhaps it's down to nobody knowing you when you're on foreign soil.
"As well as patchy fake tan, muffin tops and high heels being in the top ten holiday faux pas, it's surprising to find bad swimwear choices such as barely there bikini bottoms and sagging swimwear dominating the polls.
"We've all been in the situation when ill-fitting swimwear can make us feel conscious on the beach, so it's vital to choose swimwear that maintains shape and fit when faced with factors such as chlorine, sun cream and heat that can make your swimsuit go baggy and saggy.
"Barely there bikini bottoms and saggy swimwear can all be simply avoided through careful purchasing."
The study found that thong bikini bottoms are the biggest no-no for women followed by wearing heavy make-up on the beach and having a patchy fake tan.
A muffin top caused by bikini bottoms or trousers which are too tight was in fourth place, followed by loose or saggy swimwear.
Sixth place in the fashion faux pas list was women wearing high heels with nothing but a bikini on the beach, while ill-fitting bikini tops was at seven.
See-through swimwear, severe sunburn and tan lines which don't match the swimwear or clothes you are wearing completed the top ten.
For the men, wearing socks and sandals at the same time is the top summer fashion faux pa closely followed by exposing a beer belly.
Wearing swimwear which is too small came third, with trunks which leave little to the imagination at number four.
A backwards baseball cap, swimwear hanging too low around the waist and a white vest are also among the list.
High-waisted shorts, sunburn and large tattoos on calves completed the top ten.
It also emerged that more than one in ten of those polled have caught someone pointing to laughing at them on the beach because of a summer fashion faux pas they were committing at the time.
And 42% have had an embarrassing moment where their swimwear has let them down on the beach, with bikinis and trunks becoming see-through in water the most common issue.
Bottoms or tops falling off in front of people and losing swimwear in a large wave have also left sun-seeking Brits red-faced.
Michele Duncan for XTRA LIFE LYCRA fibre added: "It's amazing to see that despite the extreme importance of swimwear for looking great and feeling confident on the beach, a huge majority of the British population don't consider their swim attire choices carefully enough."
"Getting the right swimwear is essential. By choosing a suit with the XTRA LIFE LYCRA fibre hangtag you can be confident it will stay strong in the face of chlorine, sunscreen and perspiration and keep you safe from those all too common saggy, see-through and ill-fitting bikinis, costumes and trunks."
Top ten female faux pas
1. Thong bikini bottoms
2. Heavy make-up on the beach
3. Patchy fake tan
4. Muffin top
5. Saggy swimwear
6. Heels and a bikini
7. Ill-fitting bikini tops
8. Swimwear which is see-through
9. Sun burn
10. Tan lines on show
Top ten male faux pas
1. Socks and sandals worn together
2. Beer belly on show
3. Swimwear that is too small
4. Skimpy trunks
5. A backwards cap
6. Swimwear hanging down too low on the waist
7. Wearing a white vest
8. High waisted shorts
9. Sunburn
10. Tattoos on the calf
Top five swimwear mishaps
1. Swimwear turns see-through
2. Swimwear fell/was pulled down in front of a crowd
3. I lost my swimwear in a large wave in the sea or on a waterslide
4. It went baggy and started to break
5. It started to fade and go discoloured