Continentals join summer of love for UK holiday parks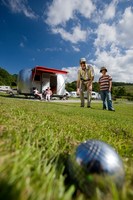 Record numbers of continental visitors are joining UK families this year on Britain's holiday parks, says a 50-strong consortium of top-rated independent park businesses.

A recent survey of its members by the Best of British group has identified a rise in bookings from families in France, Germany, Spain and the Netherlands.

Reasons suggested range from the season's sunny start to publicity surrounding both the royal baby and Britain's recent Wimbledon win - all supported by the Euro's strong buying power.

"Most of our parks are significantly up on booking figures this year, and more guests than ever before are coming from mainland Europe," says Best of British Chairman Claire Jeavons.

"The British have clearly decided that the UK is the place to be this summer, and it seems that many continental families share their view," she added.

Best of British parks, most of which are family-owned, are located throughout England, Wales and Scotland, and offer holiday caravans and lodges to rent, and facilities for touring guests.

Members have also all achieved top tourist board quality grades, and this says Claire is favouring the consortium's parks in web searches overseas for the UK's most acclaimed locations.

"There's a great continental atmosphere and a sense of celebration on many of our members' holiday parks this summer," reports Claire.

"Over the past few years, British families have found that this country offers a much better holiday experience, and far better value, than a lot of foreign resorts.

"Hopefully, this summer's guests from mainland Europe will also feel Britain really does put the Mediterranean in the shade for quality, value and hospitality," commented Claire.

She said that her family's business of Beverley Holidays in Paignton, South Devon, was among the Best of British parks enjoying a continental accent this summer.

A list of Best of British holiday park locations and facilities can be found at Bob.org.uk, and a free brochure of Best of British member-parks can also be requested from the website.