Volvo's new FH put to work at MC Rental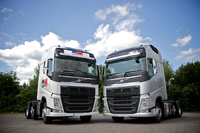 A well established commercial vehicle dealer has this month become the first company in the UK to add the new Volvo FH to its national rental fleet.

MC Rental has invested £12 million on its fleet so far this year, with the biggest expenditure being 100 new Volvo FH's. Whilst being one of few companies to offer Volvo trucks on a spot hire basis, it is the only service in the country to offer Volvo' s new star attraction in a rental capacity.
Group Sales Director, Dave Hutchins, says "the latest FH is now at the forefront of truck innovation and driver acceptability and is therefore an excellent fit with our high quality rental fleet."
"With the uncertainty that has plagued the economy for the last few years many businesses have not been in a position to make long-term commitments. Rental therefore makes commercial sense to them and by offering the new FH we are providing them with the best possible solution whatever their situation."
The new additions have a 6x2 axle arrangement and have been specified with 500 engines, industry leading automated 'I' shift gearboxes, Globetrotter XL cabs and sliding fifth wheels. They are plated at 44,000kgs giving the operator maximum productivity.
The first of these new vehicles went into service in July and according to Hutchins demand for the product is already high. "Even before our first FH's were delivered we were receiving enquiries and noticeable interest from customers old and new."
The Volvo's have joined the 1,300-strong mixed fleet and are available from spot hire to longer term leasing or contract hire. Other offerings range from 4x4 pick-ups and vans to 8 wheel grabs loaders and tractor units of varying makes and models.
"Our product range is diverse and has an average age of less than 18 months, one of the newest in the industry. This not only allows our customer's flexibility but also peace of mind that they are hiring the best quality tools for their job" says Hutchins.
MC Rental is part of MC Group which also comprises of MC Truck and Bus, offering commercial vehicle servicing, repairs and maintenance. The Group, established in 1976, also sells Volvo and Isuzu Trucks and has eight depots across the South.
"We've been in the industry for over 30 years and are known for our expertise. Our rental business enables us to meet our customers changing demands whilst offering them the reassurance of a reputable brand" summarises Hutchins.