New Harvest series on BBC Two explores farmers' fight to feed the UK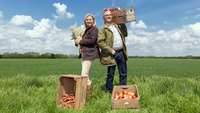 Harvest, a new series for BBC Two, hosted by Gregg Wallace and Philippa Forrester, will reveal the secrets behind the culmination of our crop-growing season, and shed light on British farming and its contribution to our food.
As part of the three-part series, Gregg and Philippa will visit farms to see how farmers use their knowledge of nature combined with hard work, precision planting, weather watching and smart logistics to gather in the billions of pounds of produce upon which we all depend. There will also be expert contributions from Stefan Gates on the science behind growing great crops.
In addition, and for the first time on TV, the series will reveal an early harvest report for the UK, which will give an indication of which crops are likely to be the winners and losers in 2013.
The 2013 figures for cereals, vegetables and fruit will show how our farmers are faring in their battle to recover from the seemingly endless winter, and coldest spring for 50 years. Harvest will examine how growing conditions affect the quality and taste of produce; the science behind the secret life of plants; and the crafty tricks of nature that farmers and growers must master. Can our growers rise to the challenge of feeding Britain under extreme conditions?
This year's harvest is one of the most important for a generation. Last year's weather had a disastrous impact on the farming community and the National Farmers Union (NFU) estimated £600 million worth of crops were lost. For many farmers, a good Harvest in 2013 is vital for their financial recovery. Viewers will see, first-hand, the struggle growers' face as they gamble their future on their knowledge of nature.
Tim Martin, Executive Producer for the BBC, says: "The success or failure of the British Harvest has a huge impact on us – it affects the price, quality and availability of our food, it's crucial to the economy of much of the UK, and it shapes the very nature of our countryside.
"With a rapidly rising world population what we can grow in Britain is more important every year. So this ambitious new series is a wonderful opportunity to bring all the drama of the harvest into viewers' lives, and reveal the clever science that keeps our farmers one step ahead of disaster, and guarantees there's always food on our plates."
The Harvest series will be supported by BBC Learning who are producing a free Harvest resource booklet that will explain the science behind producing UK crops and feature practical recipes using harvest produce. The booklet will be available online and at events run by partners such as farms, orchards and food growing projects - details of which will be listed on the bbc.co.uk/thingstodo website near to the time of broadcast. There will also be a series of short films illustrating the science underpinning modern farming, which will be available for use in schools.