Historic HQ to re-open after modern refurb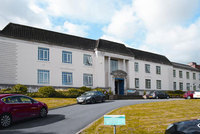 A Georgian building which was home to an historic ironworks and the famous Izal brand is to re-open as modern office space with a new look interior and improved features.
Mountcity Group is refurbishing Thorncliffe Hall, part of Sheffield's Thorncliffe Business Park, both of which are being marketed by Knight Frank.
The building, near Chapeltown, was originally the headquarters of Newton, Chambers and Company which began extracting coal and ironstone from the Thorncliffe valley in the 1790s. The company later introduced its Izal disinfectant - made from distilled coal tar - during the 1890s.
The refurbishment work will see new features at the 23,824 sq ft building including open plan floor plates, an impressive new entrance and a combined heating and cooling system.
Rebecca Schofield, partner at the Sheffield office of Knight Frank, said: "The new-look building will have all the features of a modern building while retaining much of the character.
"The modern and new-look interior will offer office space in a corporate style building, but Thorncliffe's impressive heritage provides office space that is steeped in the region's industrial history but offers modern benefits such as open plan floor space and extensive on-site car parking."
The property is based at the high quality, established Thorncliffe Business Park, which is home to more than 75 companies, including Balfour Beatty, The National Farmers Union, G.E. Energy and S.I.G. The site benefits from a number of on-site amenities including manned security and CCTV, café, gymnasium and nursery.
Thorncliffe Hall was home to Yorkshire Water for the last 16 years and, prior to that, was British Coal's base for a decade. It is situated about a mile from Junction 35A of the M1 and within a 15-minute drive of Sheffield, Barnsley and Rotherham.
Mountcity's speculative investment in Thorncliffe Hall follows the group's recent renewable and low energy refurbishment programme at Unit 4 of Rotunda Business Centre, on the same industrial estate, which led to the building achieving Band A status for Energy Performance.
The works programme at Thorncliffe Hall is expected to commence later this year.
Knight Frank can accommodate office accommodation from 5,000 sq ft. For more information, visit knightfrank.com.