Kia continues with green initiatives through 2013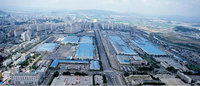 Kia is planning a number of green initiatives in 2013 as part of its commitment to put the environment at the forefront of its business operations - a pledge which has now been in force for a decade.

The focus will not just be on lowering the fuel consumption and tailpipe emissions of cars. There will be measures to reduce consumption and waste across the entire life-cycle of Kia vehicles.

Suppliers are being encouraged to adopt greener production methods and Kia will implement further measures to clean up its own factories. There will be more efficient transport methods right across the supply, manufacturing and distribution chains, and greater recycling when vehicles reach the end of their useful life.
Kia will also disclose even more environmental information about its products to help customers make greener choices.

In 2012 Kia set up a green network of 68 environmental experts to seek ways to make its factories cleaner. Their findings will be implemented this year, starting at the three domestic plants - Gwangju, Sohari and Hwaseong.

Parts manufacturing is the second-greatest contributor to a car's CO2 after usage - typically 10 to 15 per cent of the total of a medium-sized saloon. Since 2003 Kia has been helping its main suppliers set up environmental management systems, and this was extended to tier two and three suppliers in 2006.

This year Kia will sign an agreement with the Korean government to establish a pilot scheme for an integrated energy management system across the whole supply chain. Kia's Gwangju plant has already been granted ISO 50001 certification in recognition of its energy management efforts. The Sohari and Hwaseong factories will reach the same standard this year.

There will also be further efforts to streamline the distribution network. The aim is to reduce the number of shipments to Kia's domestic factories, from warehouses to the production line and of completed cars to the dealer network. This will have the added advantage of reducing costs for everyone.

Kia will share more logistics information with its second and third tier suppliers, and continues to use larger cargo transporters and ports closer to its factories to reduce its own distribution mileage. Kia is also setting up a system for forecasting customer demand to make the parts supply more efficient.

The Namyang Research and Development Center in Korea established a pilot carbon Capture and Storage (CCS) plant in 2012, and Kia is planning to commercialise CCS in 2015. Last year Kia's total CO2 output fell by the equivalent of the intake 28 millionmature pine trees. There has been a 123kg reduction in the company's CO2 output per car since 2008.

As long ago as 2002 Kia began developing safe substitutes for hazardous materials and chemicals at its factories, changing or replacing components as necessary.

In 2004 the company started comparing resource consumption against sales revenue, and has achieved a 49.1 per cent improvement in nine years. Kia also tabulates the resources its uses against emissions and waste and the value generated during the manufacturing process.

It has achieved a 23 per cent reduction in waste in 10 years. Less than one per cent of waste is taken to landfill, and Kia plans to reduce the amount of incinerated waste from 8.4 per cent to three per cent by 2016. More than 90 per cent of waste from the three Korean plants is recycled.

Water consumption at Kia's domestic factories has fallen by 25.8 per cent since 2003 - a valuable contribution in a country which is classified as having potential water shortage problems. Kia's internal standards on managing water and atmospheric pollutants are more stringent than those required by law.

From the start of the design phase, Kia establishes digital blueprints on the recyclability of its cars as part of a Life Cycle Assessment. Kia aims to make 95 per cent of its vehicles recyclable by 2015.

Last year the company developed its own airbag removal device and a manual on the safe disposal of lithium-ion batteries from hybrid vehicles. This manual has been distributed throughout the Korean recycling and dismantling industry.