Why KIA Drivers Are Cruising Through Life In Luxury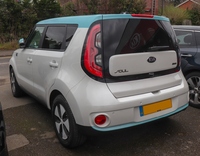 There's a quiet revolution happening on the roads of America, a shift that challenges preconceptions and redefines the automotive hierarchy. KIA, a brand long associated with affordable and reliable transport, is now turning heads and challenging assumptions with a lineup of vehicles that are luxurious, technologically advanced, and above all, a joy to drive. This is why a growing number of drivers are now cruising through life in the lap of KIA luxury.
The Rise of KIA: From Economy to Luxury
Few could have predicted the journey that KIA would take when it first began production in the 1940s. Initially focused on creating economical vehicles, the South Korean manufacturer quickly gained a reputation for producing reliable cars that were easy on the wallet. KIA's reputation was built on these humble beginnings, but the seeds of luxury were already being planted.
As KIA's market share grew, so did its ambitions. The company began to invest in research and development, focusing not just on economy, but also on creating more refined, high-end vehicles. This came to fruition in the 2000s with the introduction of models like the Optima and Cadenza, which showcased KIA's ability to blend economy with a touch of luxury.
Then came the introduction of the KIA Stinger in 2017, a game-changer for the brand. This performance-focused sedan demonstrated that KIA could not only compete with luxury manufacturers, but exceed expectations. The Stinger's premium materials, refined design, and powerful performance won critical acclaim and marked a significant step in KIA's journey towards the luxury market.
But KIA wasn't just content with luxury, it wanted to be at the forefront of the electric vehicle revolution too. The company released the Soul EV and Niro EV, models that not only embraced the move towards sustainability but did so without compromising on luxury and comfort. This showed that KIA wasn't just competing in the luxury market, it was leading in innovation.
KIA's transformation from an economy brand to a luxury contender is a story of ambition, innovation, and a relentless focus on the needs of the driver. It's a transformation that has been decades in the making, but the results are undeniable: KIA is now a brand that embodies luxury in every sense of the word.
Cutting-Edge Technology for an Elevated Driving Experience
In today's automotive landscape, luxury is as much about technology as it is about comfort and aesthetics. KIA understands this, and that's why it's at the forefront of bringing cutting-edge technology to its vehicles. The brand's commitment to technology is evident in the array of features designed to enhance the driving experience and make it as effortless as possible.
KIA's advanced UVO infotainment system is a standout feature. With a high-resolution touchscreen display, integrated navigation, and voice-command functionality, it puts control at the driver's fingertips. Apple CarPlay and Android Auto integration mean drivers can stay connected without being distracted, seamlessly accessing music, messages, and more.
Safety is another area where KIA's use of technology shines. From forward collision warning systems to blind-spot detection, KIA vehicles are packed with advanced driver-assistance systems. Not only do these features help prevent accidents, but they also provide a level of reassurance that adds to the feeling of luxury.
KIA is also leading the way in electric and hybrid technology. Models like the KIA Soul EV and the Niro EV are at the forefront of the electric revolution, delivering exceptional performance alongside zero-emissions driving. Meanwhile, KIA's range of hybrid vehicles offers drivers the perfect balance between fuel efficiency and luxury.
These technological features and advancements are not just about keeping up with the competition, they're about setting new standards in the luxury vehicle market. They are part of KIA's commitment to providing a driving experience that is as effortless as it is enjoyable.
How to Find Great Deals When Shopping for the Latest KIA Models
Buying a luxury car is a significant investment, but there are ways to make the process easier and more affordable. Whether you're looking for a sleek sedan like the KIA Stinger or an eco-friendly model like the Niro EV, there are plenty of ways to find great deals on the latest KIA models.
One of the best ways to find deals is by shopping at the end of the model year, typically in the late summer or early fall. Dealerships are often eager to make room for new inventory, meaning they are more willing to negotiate on price. This can lead to substantial savings, especially on luxury models.
Online shopping is another excellent tool for finding deals. Many dealerships now list their inventory online, along with any special promotions or discounts. By comparing prices from multiple dealerships, you can ensure you're getting the best deal possible.
While negotiating can be intimidating, it's a crucial part of getting a good deal. Don't be afraid to ask for a lower price or better financing terms. Remember, the listed price is often just a starting point, and there is usually room for negotiation.
Consider leasing as an alternative to buying. Leasing often comes with lower monthly payments, making it a more affordable way to drive a luxury vehicle. Plus, you'll have the option to switch to a new model every few years, allowing you to always drive the latest KIA.
When buying a car from another city or state, car shipping can be a viable option. This service can be especially beneficial when you've found a great deal that's too good to pass up, but the car is located far away. Car shipping companies can transport your new KIA directly to your doorstep, eliminating the hassle of long-distance travel.
Factoring in car shipping costs is easy when you use an online car shipping calculator. According to Montway Auto Transport, one of the car transport companies in Ohio and other locations nationwide, "Add your pickup and drop-off locations, vehicle type, and other details to our online rate calculator and get an instant quote."
It's important to note that car shipping costs vary depending on the distance, the size of the vehicle, and the time of year. Ensure to get quotes from multiple shipping companies to find the best price. Keep in mind that shipping a car will add to your overall costs, but it may be worth it if it allows you to get your dream KIA at a dream price.
Unveiling KIA's Luxury Lineup for Various Lifestyles
KIA's luxury lineup is as diverse as it is impressive. Whether you're an urban dweller looking for a stylish sedan or a family needing the spaciousness and flexibility of an SUV, there's a KIA to suit your lifestyle.
The KIA Stinger is the brand's flagship luxury vehicle, boasting a sleek design, a luxurious interior, and a performance that rivals that of more traditional luxury marques. It's an ideal car for those who want to make a statement without compromising on performance or comfort.
For those seeking a luxury SUV, the KIA Telluride offers a compelling blend of comfort, style, and capability. With its spacious interior, high-end finishes, and advanced safety features, it's perfect for families who don't want to sacrifice luxury for practicality.
In the compact SUV segment, the KIA Sorento stands out with its premium features and nimble handling. It's an excellent choice for those who want the benefits of an SUV without the bulk.
The KIA Cadenza and K900 sedans offer traditional luxury with a modern twist. Both feature elegant designs, opulent interiors, and a host of advanced technology and safety features. These models are ideal for those who appreciate the finer things in life and want a car that reflects their taste.
For the eco-conscious luxury car buyer, KIA offers the Niro EV andSoul EV. Both models deliver impressive electric performance without compromising on luxury, comfort, or style. They represent KIA's commitment to sustainable luxury and show that going green doesn't have to mean giving up on luxury.
The Joy of Driving: KIA's Focus on Pleasure and Enjoyment
In the world of luxury cars, the joy of driving is a cornerstone. It's not just about getting from point A to point B; it's about the experience along the way. KIA understands this and has designed its vehicles to provide not just luxury, but also a genuine joy of driving.
This is evident in the KIA Stinger's performance capabilities. With its powerful twin-turbo V6 engine and dynamic handling, the Stinger delivers a driving experience that is exhilarating yet refined. It's a car that's equally at home on a twisting mountain road as it is cruising down a city street.
KIA's focus on driving enjoyment extends to its electric vehicles as well. The Niro EV and Soul EV are proof that electric cars can be fun to drive. With instant torque and smooth acceleration, these vehicles deliver a unique driving experience that's both enjoyable and sustainable.
But the joy of driving a KIA isn't just about performance. It's also about the comfort and luxury that surrounds you. From the supple leather seats to the intuitively designed controls, every detail in a KIA is designed to enhance the driving experience.
KIA's advanced technology features, from the UVO infotainment system to the driver-assistance systems, also contribute to the joy of driving. By making the drive easier and safer, these features allow drivers to focus on what matters most: the pure enjoyment of the journey.
KIA's transformation from a budget car manufacturer to a purveyor of luxury has been impressive. The brand's focus on advanced technology, its commitment to sustainability, and its ability to cater to various lifestyles have made it a strong contender in the luxury car market.
Most importantly, KIA understands the joy of driving. It's not just about arriving at your destination; it's about the experience along the way. Whether you're behind the wheel of the powerful Stinger, the luxurious Telluride, or the eco-friendly Niro EV, driving a KIA is about more than transportation. It's about embracing the journey and cruising through life in luxury.