Stunning Kia Stinger Gran Turismo arrives in the UK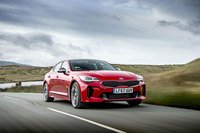 It's here at last! The stunning Kia Stinger, an elegant gran turismo based on the 2011 Kia GT Concept from the Frankfurt Motor Show, is now in full production and today goes on sale in the UK priced from £31,995.
Stinger is the most adventurous model in Kia's history, the company's first classic grand tourer and the first rear-wheel-drive model it has introduced to Europe. In range-topping twin-turbo V6 guise, it is also the fastest-accelerating Kia ever, with a 0-60mph time of 4.7 seconds.
Six years in the making, it was designed in Europe at the Frankfurt studios under the watch of President of Design and Chief Design Officer Peter Schreyer and European Head of Design Gregory Guillaume. Prototypes have covered the equivalent of 27 trips around the Equator, taking in extreme climate testing in Europe, Asia, the Middle East and North and South America, to perfect the car, and every development model has done at least 480 laps (10,000 kilometres) of the tortuous Nurburgring Nordschleife. The testing regime was headed by Kia's Head of Vehicle Test and High Performance Development, Albert Biermann.
Five versions are available in the UK, all with turbocharged direct-injection engines mated to an eight-speed automatic gearbox and featuring state-of-the-art electronic driver aids and connectivity systems. The GT-Line and GT-Line S offer the choice of a 2.0-litre 244bhp T-GDi petrol engine or a 2.2-litre 197bhp CRDi turbodiesel, while the range-topping GT S has exclusive use of a 3.3-litre 365bhp twin-turbo V6. The GT S, as the fastest and most powerful model in the range, also has adjustable electronic suspension damping and Brembo brakes.
A gran turismo, not a sports car
Stinger is a classic grand tourer, not a hard-edged sports car. It harks back to an era when travelling was all about the joy of the journey and getting to the final destination could be an anti-climax.
"The Stinger has nothing to do with being the first to arrive," says Gregory Guillaume. "This car is all about the journey. It's about passion."
It was inspired by the elegant grand tourers Guillaume saw as a child growing up in 1970s France, wafting their occupants effortlessly from Paris to St Tropez and other glamour spots on the Riviera. Even as a young boy Guillaume was drawing his own ideas for elegant grand tourers, hoping that one day they might become reality. They were his inspiration for the 2011 GT Concept and, subsequently, Stinger.
Stinger exhibits classic gran turismo proportions – long bonnet, short front overhang, long wheelbase, cabin positioned towards the rear of the car, lengthy rear overhang beneath broad shoulders and a 'Coke-bottle' nip in the waist. It sets a template for Kia's bold and exciting future and is the final step in the company's transition from a manufacturer of purely rational, durable, value-centric cars to one able to compete with the world's best for desirability, design and technology.
This may be a new kind of Kia, but the design cues which have stood the company in good stead since Schreyer joined in 2006 are all in evidence. What Guillaume calls the "sleek and sharky" front end has a new interpretation of Kia's 'tiger-nose' grille mounted between complex headlamp units. There is a castellated upper edge to the windscreen. And the flanks are simple and unadorned. Visual engagement also comes from the large lower grille and air intake, dark chrome highlights and bold rear diffuser with quad tailpipes on petrol models and twin tailpipes on diesels. There are 18-inch alloy wheels on GT-Line and GT-Line S versions and 19-inch wheels on GT S.
What exterior decoration does appear is there to aid aerodynamics and ensure the car remains stable at the high speeds it is capable of. There are air curtains at the front and finned gills behind the rear wheel arches to reduce wake as turbulent air passes around the large wheels and tyres. The final shape of Stinger called for intense collaboration between designers and aerodynamicists to make airflow around the car as clean as possible without diluting its stunning styling.
An interior fit for cross-continent travel
Stinger's luxurious interior is a blend of cocooning intimacy and space for five people and their luggage. Occupants slip down into their low-slung seats – leather in GT-Line and GT-Line S versions, and Nappa leather in GT S.
There is a horizontal sweep to the high-mounted, wing-shaped dashboard – also covered in leather – which is broken only by the 8.0-inch touchscreen for the navigation and infotainment system. Leather also adorns the door armrests, the D-shaped steering wheel and the gearshifter, which also has chrome sections.
The seats are snug and enveloping, and the two in front have eight-way power adjustment – with a memory function on the driver's side – and a two-way power cushion extender plus four-way power lumbar adjustment. The front seats and steering wheel are heated, and in GT-Line S and GT S they are also ventilated, while the outer rear seats are also heated.
The luxurious ambience is enhanced by an aluminium-finish centre console, a chrome strip running all the way around the cabin, suede-like headlining, satin chrome interior door handles, alloy pedals, stainless steel door scuff plates and five aeronautically inspired spoked circular air vents.
To enhance comfort, dual automatic air conditioning is fitted to every model, while to aid the driver there is a 7.0-inch LCD Thin Film Transistor (TFT) supervision cluster and a customisable head-up display which allows key information – speed, navigation instructions and audio, cruise control and blind spot detection information – to be projected onto the windscreen. GT-Line S and GT S also have a 360-degree around-view monitor.
Every model has a DAB radio with MP3 compatibility and Bluetooth with voice recognition and music streaming. In GT-Line there is a nine-speaker sound system with front under-seat subwoofer, while GT-Line S and GT S have a concert hall quality 15-speaker harman/kardon premium system with subwoofer, external amp and front centre speaker. It features Clari-Fi, which restores the sound often lost when digital music files are heavily compressed, and QuantumLogic Surround Sound, which redistributes signals from the original recording to deliver multi-dimensional playback.
Powertrains perfectly tuned for long-distance touring
Grand tourers should not only be beautiful, comfortable and luxurious – they must also be fast. The three turbocharged engines chosen for Stinger are ideally suited to its role as a long-distance gran turismo.
On the one hand the 3.3-litre twin-turbo V6 T-GDi is the fastest-accelerating Kia ever, with a 0-60mph time of 4.7 seconds and a top speed of 168mph, while on the other the 2.2-litre CRDi's combined fuel consumption of 50.4mpg gives it a touring range of comfortably more than 600 miles. In between there is the 2.0-litre T-GDi offering much of the best of both: acceleration from 0-60mph in 5.8 seconds with combined fuel economy of 35.8mpg, allowing it to cover more than 450 miles before the driver will need to stop for fuel.
The 2.0-litre T-GDI (Turbocharged Gasoline Direct injection) engine develops 244bhp at 6,200rpm and 353Nm of torque all the way from 1,400 to 3,500rpm, ensuring outstanding driveability. The 3.3-litre T-GDi V6 can deliver 365bhp at 6,000rpm and a huge 510Nm of torque which is even more widespread – starting at 1,300rpm and continuing uninterrupted until 4,500rpm. The 2.2-litre CRDi delivers 197bhp at 3,800rpm and 440Nm of torque, also across a wide range – 1,750 to 2,750rpm.
All versions drive the rear wheels through an electronic eight-speed automatic gearbox. It was designed in-house and rewards drivers with immediate shifts and optimum fuel efficiency. Stinger's transmission marks Kia's first use of a Centrifugal Pendulum Absorber (CPA) torque converter more typically found in aviation and racing applications. CPA reduces torsional vibrations through the drivetrain.
The transmission offers up to five different shift and throttle programmes, accessed through the car's electronic Drive Mode Selector. Drivers can leave the car to shift for itself, or change gears with steering wheel-mounted paddles. A limited slip differential is fitted to all models so that torque is transferred to the rear wheel with most grip.
ISG, Kia's engine stop/start system to ensure no fuel is wasted and no emissions are released into the air when the car is stationary, is standard. The engine cuts out as soon as the driver brakes to a standstill and restarts when the brake pedal is released.
To ensure occupants can enjoy the refined sporting tones of the Stinger's turbocharged engines, the car is the first Kia to be fitted with an Active Sound System. This relays the engine note to the cabin through the car's audio system rather than the more conventional actuator. It was engineered in Europe and can be customised through the Drive Mode Selector according to which of the five programmable settings the driver has chosen.
Sportiness with comfort: the ideal gran turismo combination
A gran turismo must provide exceptional comfort for occupants on the long distances it is designed to cover, but it must also reward enthusiastic drivers. Stinger meets those demands. Right-hand-drive cars have undergone additional testing in the UK to meet the unique challenges of the country's roads.
All versions have fully independent suspension through MacPherson struts at the front and a five-link set-up featuring double wishbones at the rear, but there are two different systems. GT-Line and GT-Line S have a passive set-up, while GT S introduces adaptive Dynamic Stability Damping Control (DSDC), which can be changed through the Drive Mode Selector. DSDC allows the driver to choose a more comfort-oriented Normal setting or a Sport setting which introduces more powerful damping force.
A variable-ratio version of Kia's rack-mounted Motor Driven Power Steering (R-MDPS) is fitted to the GT S grade, and this can also be adjusted via the Drive Mode Selector. The Normal setting requires less turning effort from on-centre, becoming progressively firmer as more lock is added. Sport requires more initial effort, while shorter gearing ensures more immediate response by reducing the need for larger steering inputs.
Stinger's brakes have had more development work than those on any previous Kia to ensure they are up to the performance of the engines. There are ventilated discs at all four corners for the 2.0-litre T-GDi and 3.3-litre T-GDi V6 models, with ventilated front discs and solid rear discs for the 2.2-litre CRDi models.
The disk brakes for the 3.3-litre GT S were co-developed with Brembo and are 350mm on the front and 340mm on the rear and are holed and grooved, to provide high heat capacity with low fade, even in repeated heavy use. They were developed on some of the highest mountain passes in Austria, Germany and Spain as well as around the Nurburgring. There are quad-piston front calipers and dual-piston rear calipers.
There are 18-inch alloy wheels with 225/45 R18 tyres for GT-Line and GT-Line S, while the GT S has 19-inch alloys with 225/40 R19 tyres at the front and even wider 255/35 R19 tyres at the rear.
Fully equipped for the life of a modern gran turismo
Stinger may evoke memories of the golden age of gran turismos, but it is not a retro car. Its advanced driver aids take into account that roads are busier and there are more distractions than yesteryear, while its 8.0-inch touchscreen infotainment system acknowledges that drivers no longer use maps to find their way around but expect the car to guide them to their destination, and that they expect to remain fully connected throughout the journey.
All versions have Autonomous Emergency Braking, which automatically intervenes to stop the car if the driver fails to respond to a potential accident, and there is Lane Keep Assist to prevent a driver straying into an adjoining lane accidentally, and High Beam Assist to adjust the headlights according to other traffic and local lighting. Driver Attention Warning alerts a tired driver that it is time to take a break, and there is a Speed Limit Information system.
GT-Line S and GT S supplement this with Blind Spot Detection with Rear Cross Traffic Alert: together, these act as an extra pair of eyes for the driver, warning of vehicles approaching out of his or her eye-line when changing lanes or exiting parallel parking spaces. An Active Bonnet is standard with all three trim grades to provide additional protection for pedestrians' heads in a collision.
Stinger has Electronic Stability Control linked to Vehicle Stability Management (VSM) to correct potential skids without any intervention from the driver. VSM incorporates a new dynamic torque vectoring system which monitors driver inputs and road conditions and automatically applies power and braking force to the inner rear wheel to minimise understeer and enhance tractability and steering feel.
The standard touchscreen navigation has full European mapping and a Traffic Messaging Channel. Stinger also has Kia Connected Services with TomTom, giving access to traffic, speed camera and weather information plus local search details in a number of categories. This is supplemented by Android Auto and Apple CarPlay connectivity which, via pre-downloaded apps on a suitable smartphone, links the car to maps, music, podcasts and texts through voice commands.
There are front and rear USB ports, while GT-Line S and GT S have a wireless phone charger.
Warranty and Servicing
The extensive testing regime undertaken with Stinger means that it enjoys the same seven-year/100,000-mile warranty as any of the company's other models. This declaration of faith in the car's reliability and quality covers all labour and parts except those subject to normal wear and tear, and is transferable if the car is sold before the time/mileage limit expires.
Stinger's standard paint finish is Sunset Yellow, while Pearl White, Midnight Black, Ceramic Grey, HiChroma Red and Panthera Metal are chargeable options. Stinger comes with three interior colour options, Black leather, grey leather or red leather.