Fastback Kia Stinger revealed in European specification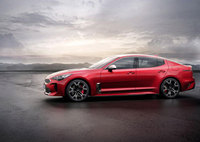 Kia Motors has revealed the European specification of the Kia Stinger, a powerful new fastback sports sedan, following its global premiere at the 2017 North American International Auto Show (NAIAS) in Detroit on 9 January. The new Kia Stinger closely follows the design and engineering blueprint laid down by the 2011 Kia GT Concept, and will be the highest-performance production vehicle in the company's history.
The Stinger channels the spirit of historic grand tourers – powerful, elegant vehicles capable of moving their owners in style, at speed. At every stage of development, the Stinger has been designed and engineered to be the perfect gran turismo. The car features a head-turning aesthetic, ample room to accommodate five occupants and their luggage, a stable, unruffled ride, and nimble handling with engaging, rear-biased power delivery.
In its transition from concept to production, Kia's GT Concept was renamed 'Stinger', inspired by the GT4 Stinger concept revealed at NAIAS 2014. While the car is a true GT in nature, the Stinger name evokes speed and excitement, two key characteristics found in the production car.
In Europe, the Stinger will be available with a choice of three engines: a 2.0-litre turbo petrol engine, a powerful 3.3-litre twin-turbo V6, and – announced for the first time – a 2.2-litre turbodiesel engine.
The Stinger is the result of years of impassioned design and development work at Kia. Six years after the company revealed its powerful statement of intent in the GT Concept, the Stinger will enter production and go on sale in Europe during the fourth quarter of 2017.
Design
Turning a concept into a production car is no small feat. Kia's European design studio in Frankfurt – birthplace of the 2011 GT concept – has brought the Stinger to life, overseen by Peter Schreyer, Chief Design Officer of Kia Motors, and Gregory Guillaume, Chief Designer at Kia Motors Europe.
Guillaume comments, "The Kia Stinger is a true gran turismo, a car for spirited long-distance driving. It's not about outright power, hard-edged dynamics and brutal styling, all at the expense of luxury, comfort and grace. The Kia Stinger has nothing to do with being the first to arrive at the destination – this car is all about the journey. It's about passion."
From its sleek frontal section, through its svelte flanks, and up to its powerful haunches, the Stinger exudes a muscular confidence. Key to its road presence are its rear-wheel drive proportions – a long bonnet and short 830 mm front overhang, an extended wheelbase (2,905 mm) to deliver a spacious cabin, and a long rear overhang (1,095 mm) with strong, broad shoulders. The Stinger's stance, proportion and visual balance are designed to lend the car an air of elegance and athleticism, rather than aggression and brutality. The Stinger measures 4,830 mm in length and 1,870 mm in width, making it longer and wider than many sport sedans, and allowing for a spacious cabin and cargo area.
The 'Coke bottle' shape of the car's flanks highlight and enhance the visual power of the Stinger's shoulder line, as well as its fastback silhouette. Other purely functional elements of the exterior design – the front air curtains, wheel arch gills, smooth underbody, and integrated rear diffuser – aid its aerodynamic efficiency. The rear valance houses four oval exhaust pipes. Kia's signature 'tiger-nose' grille sits proudly between complex LED headlamps.
External gran turismo visual cues are complemented by the layout and atmosphere of the low-slung cabin, with a steeply-raked windscreen and high dashboard running along a horizontal plane. The dashboard's centre console is split into two specific areas: the infotainment controls sit neatly below a large colour touchscreen, while the climate and ventilation controls sit beneath. In front of the driver is a thick, leather-wrapped steering wheel and a single instrument binnacle with a combination of analogue and digital instrumentation. The large gauges are ringed in metal and accentuated with sweeping red needles. A colour TFT screen between the gauges relays performance data – such as cornering G-forces and lap times – along with ancillary information, including trip computer, driver settings, navigation and diagnostics.
Aeronautically-inspired spoked circular vents feature in the front and rear, while a strip of satin chrome encircles the cabin. The effect is a feeling of cocooned intimacy. However, the long wheelbase, four-door body, and fastback silhouette allow for generous front and rear leg room, and the low seating position provides ample head room for all passengers. Cossetting occupants in luxury, the Stinger's deeply-contoured seats are available with ultra-soft Nappa leather, while the driver's seat is available with air-cell bladders in the seatback and side bolsters for optimal support.
Engines and drivetrain
Under the long bonnet of the Kia Stinger is a choice of three longitudinally-mounted turbocharged engines, each in the final stages of tuning before entering production later in 2017. With turbochargers equipped across the engine line-up, the Stinger offers drivers effortless gran turismo-style high-speed cruising and instant acceleration when called upon by the driver, with all three engines providing high power and torque across a wide band of engine speeds.
Announced for the first time today, the engine anticipated to account for the majority of Stinger sales across Europe is a 2.2-litre turbodiesel. The 2.2-litre engine is capable of producing 200 ps at 3,800 rpm. Its maximum torque output – 440 Nm – is available to drivers across a wide 1,750-2,750 rpm range, enabling the car to accelerate from 0-to-100 kph in 8.5 seconds, and on to a top speed of 225 kph.
The 2.0-litre turbocharged four-cylinder 'Theta' engine produces 255 ps at 6,200 rpm. Its maximum torque output – 353 Nm – is available from 1,400 to 4,000 rpm. The Stinger's most powerful engine is a 3.3-litre twin-turbocharged V6 'Lambda II' petrol engine, with peak power of 370 ps arriving at 6,000 rpm, and 510 Nm torque accessible from 1,300 to 4,500 rpm. Stinger models powered by the 3.3-litre turbocharged engine can accelerate from 0-to-100 kph in just 5.1 seconds, making it the fastest-accelerating production Kia ever. With this engine, Kia is targeting a top speed of 270 kph.
The Stinger features the second-generation of Kia's electronic eight-speed automatic transmission, which is fitted as standard with all engines. Designed in-house, the eight-speed transmission rewards drivers with immediate shifts and optimum fuel efficiency. More typically found in aviation and racing applications, the Stinger's transmission marks Kia's first use of a Centrifugal Pendulum Absorber (CPA) torque converter, reducing torsional vibrations through the drivetrain. The transmission offers up to five different shift and throttle programmes (as well as levels of steering assistance – see below), which drivers can select through the car's electronic Drive Mode Select. Drivers can leave the car to shift for itself, or change gears with steering wheel-mounted paddles.
The Stinger is Kia's first sedan to be available with either rear- or all-wheel drive – the latter offering enhanced dynamic capability in even the most challenging conditions. In its rear-wheel drive format, power is distributed throughout the rear axle by an optional mechanical limited slip differential. The rear-biased all-wheel drive system is equipped with Dynamic Torque Vectoring Control, which monitors driver inputs and road conditions, automatically applying power and braking force to the appropriate wheels to maintain course in the wet or dry.
Ride and handling
Kia has sought to create a car with driving dynamics that live up to its stunning design. To fulfil this brief, the Stinger's ride and handling were honed at Germany's infamous Nürburgring Nordschleife, under the watch of Albert Biermann, Head of Kia's Vehicle Test and High Performance Development. A gran turismo by design and by nature, the Stinger's test regime was established to make it capable of taking every kind of road in its stride.
Comprised of 55 percent Advanced High Strength Steel, the Stinger's bodyshell provides an ultra-stiff foundation for the car's suspension components, and contributes to reduced noise and vibration for a quiet cabin.
The MacPherson strut front suspension system has been tuned to optimise feedback to the driver, as well as maximise steering response and stability in all conditions. At the rear, a multi-link suspension setup aids handling responses, with a reinforced anti-roll bar for high stability and minimal body vibrations.
The Stinger also features an electronically-adjustable suspension system, Dynamic Stability Damping Control (DSDC). While always reacting predictably to the driver's inputs, the system can be tuned via the Drive Mode Select depending on road conditions and driving style. DSDC can be used to firm or soften the front and rear dampers independently, for tailored ride, response and agility. Drivers can choose from five drive modes: Eco, Sport, Sport+, Comfort and Smart.
A variable ratio rack-mounted motor driven power steering system (R-MDPS) features an electric motor mounted directly on the steering rack, which affords more immediate responses and reduced vibration compared to systems with column-mounted motors. Steering assistance and weight is also adjustable via the Drive Mode Select system.
A choice of alloy wheels and high-performance tyres are also offered. 2.2-litre diesel models ride on 225/50R17 tyres as standard, and 2.0-litre gasoline models are fitted with 225/45 R18 tyres, while the 3.3-litre V6 is fitted with high-performance 225/40 R19 and 255/35 R19 tyres on the front and rear. 3.3-litre V6 Stinger models feature high-performance ventilated disc brakes from Brembo® as standard (350 mm at the front, 340 mm at the rear), with quad-piston front calipers and dual-piston rear calipers. 2.0-litre models are fitted with ventilated disc brakes – 345 mm at the front, 330 mm at the rear – while 2.2-litre diesel models are fitted with 320 ventilated disc brakes at the front and 315 mm solid disc brakes at the rear.
Safety
The Stinger will be available with Kia's latest Advanced Driver Assistance Systems (ADAS), under the brand's DRIVE WiSE sub-brand. DRIVE WiSE embodies Kia's philosophy to realise intelligently safe vehicles with active safety technologies that are designed to avoid or mitigate the effects of a collision.
The Stinger is equipped as standard with Kia's Vehicle Stability Management (VSM), ensuring stability under braking and cornering by controlling the car's Electronic Stability Control (ESC) if it detects a loss of traction.
Other DRIVE WiSE features available include: Forward Collision Warning with Autonomous Emergency Braking and pedestrian recognition; Advanced Smart Cruise Control; Lane Keeping Assist System; Rear Cross Traffic Alert; Surround View Monitoring System for low-speed manoeuvres; Blind Spot Detection; and High Beam Assist.
A new feature for Kia, the Stinger is also available with a Driver Attention Alert (DAA) system to combat distracted or drowsy driving. In Europe, driver fatigue is believed to be a key factor in up to a quarter of all fatal traffic accidents across the continent*, while the USA's National Highway Traffic Safety Administration conservatively estimates that 100,000 police-reported crashes are the direct result of driver fatigue each year. In the USA, this results in an estimated 1,550 deaths and 71,000 injuries annually**. The system monitors a number of inputs from the vehicle and the driver, and will sound a warning chime and display a graphic in the instrument binnacle if it senses a lapse in concentration from the driver.
Technology and features
The Stinger reflects Kia's focus on offering the latest infotainment systems and driver technologies. A height-adjustable Head-Up Display (HUD) enables the driver to see key driving information reflected on the glass of the windscreen, including speed, turn-by-turn navigation guidance, audio, cruise control and Blind Spot Detection information. Resting within the centre console is a wireless smartphone charging pad, while Bluetooth integration is standard across the Stinger line-up.
Long distance travel is a hallmark of the gran turismo driving experience, and a trio of high-performance audio systems guarantee an immersive acoustic experience as the miles sweep by. The base audio system features six speakers and a seven-inch haptic touchscreen, while buyers can also choose an optional nine-speaker system with external amplifiers. In the Stinger's highest specification, buyers can select an 8.0-inch touchscreen infotainment system, paired with a powerful 720-watt, 15-speaker Harman-Kardon® surround-sound audio system. The Harman-Kardon® system features a pair of subwoofers mounted beneath the driver and front passenger seats, as well as Clari-Fi™ music restoration technology that rebuilds audio signals lost in the digital compression process. This technology returns a high-fidelity listening experience to any compressed digital source. The system also comes equipped with next-generation QuantumLogic™ Surround Sound technology, which extracts signals from the original recording and redistributes them into an authentic, multi-dimensional soundstage for playback that is clear, refined and full of detail.
Production and on-sale
The Kia Stinger will enter production in the second half of 2017, and will go on sale across Europe during the fourth quarter of the year. Pricing will be announced closer to the Stinger's on-sale date.