Brits hit by crime heat-wave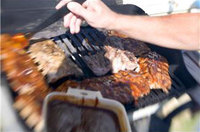 With the nation in the grip of a heat wave, Brits are taking to their gardens to enjoy the sunshine - however the summer heat can bring a particular chill to relations over the garden fence.

New research from Confused.com reveals how rising temperatures often serve to bring neighbourly disputes to boiling point, with the majority of arguments happening between June and August (55%).

Simmering tensions between neighbours can peak as barbecues run in to the late hours, loud sound systems blare from open windows and hot-tub motors whirr away for entire afternoons. According to the findings, the most common summer-loving activities causing these feuds are loud music (17%), noise from parties (12%) and smoke from BBQs (5%).

And it's not just neighbour disputes that make the summer a hot-bed for crime. According to figures from Confused.com, claims for thefts from the home are higher during the summer months (Jun-Aug) than during the winter (Dec- Feb).

This could be down to the fact that more homes are left unoccupied over the summer as people enjoy their holidays - nearly a quarter of victims (23%) were on holiday when their home was broken into

Summer burglaries could also be attributed to a more relaxed attitude adopted by people over the summer months, as people socialise in their gardens and enjoy the sunshine. According to the research, more than a quarter of burglaries (27%) occur as a result of the intruder entering through an open door or window.

It seems this blasé attitude to home security is being adopted by too many people, with one in five Brits (20%) admitting that they don't have any security measures in place to deter burglars. Worryingly, a fifth of burglary victims (22%) did not have home insurance in place when the break-in occurred either.

Gareth Lane, Head of Home Insurance at Confused.com comments: "Everyone wants to enjoy the good weather, however we want to remind people to be considerate of their neighbours.

"Having a good relationship with your neighbours can be extremely beneficial. As well as keeping an eye on your property when you're away, good neighbour relations can also help to build a strong sense of community to help reduce crime in the area."