Micra and the big city - the love affair continues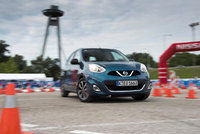 The city belongs to Micra. Over the past 30 years, Nissan's best-selling supermini has become the default choice for over 6 million of drivers wanting a car that fits in with their busy lives. With its famous maneuverability, dynamic design and effortless driving experience, the Micra has earned its place at the heart of the Nissan range.

To showcase the new Micra's legendary urban agility, journalists attending the international press launch of the new model in Bratislava took part in a Micra City Challenge over a specially created course. The tight and twisty cone-strewn circuit replicated a typical urban environment and gave journalists the chance to test the Micra's class-leading turning circle (just 9.3m), excellent visibility and perfectly weighted controls to the full.
And it's not just the Micra's famed agility that marks the new model out. With a bold new look, comprehensive improvements and quality upgrades, it's the most complete Micra ever made.

Set to reinforce its position as the third best-selling Nissan model in Europe behind Qashqai and Juke, the new Micra features a completely new look front and rear - complete with sheet metal changes - and a substantial interior makeover. The all-new cabin delivers new technology, a new centre console, new trim, plus audio USB and Aux-in slots for music on the move.

Depending on the version there's an all-new communication centre with a new radio and the latest state-of-the-art touchscreen navigation system now with a larger screen. On the exterior, additions include two bold new colours and new 16-inch and 15-inch alloy wheels.

Nissan has also expanded Micra's choice of personalisation options designed to allow an owner to create their own unique Micra. The changes, allied to the model's acclaimed performance and handling, boost and broaden the appeal of Nissan's smallest car.

As customers have come to expect from Nissan, the new Micra is also packed with advanced technologies. From the highly efficient direct injection gasoline-supercharged (DIG-S) petrol engine, to innovative, accessible and genuinely helpful Parking Slot Measurement, the new Micra raises the standards for small car technology and usability.