Beat the heatwave! - New thrilling Thames Rockets boat ride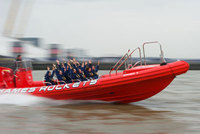 It's fast, furious and a world first. Thames Rockets is a new thrilling, high-speed boat ride blasting off this summer in the Capital and operating exclusively in the new Thames 'High Speed Zone'. And with temperatures at a record high, there's no better way to cool down!
The racy red speedboat takes you on an exhilarating trip down London's river – set to a rousing "Best of British" soundtrack from iconic music to the unmistakable voices of Winston Churchill and Mayor of London, Boris Johnson.
Thames Rockets is the latest brainchild of London RIB Voyages' Charlie Matheson, who was the first to bring speedboat attractions to the Thames. The entrepreneur is expecting his next exciting venture to be a splashin' success, commenting: "Thames Rockets will be the talk of London this summer. We're giving thrillseekers an exciting, unforgettable boat ride experience with a difference, which really celebrates the Capital and all that's great about Britain".
"The witty soundtrack touches on all that is amusing about our nation. Politics, sporting events and entertainment are all highlighted and paint a picture of British history as the Rocket races across the water.
"There's nothing like it in the UK and up-to-it families and thrillseekers will love it."
Passengers are kitted out in bespoke waterproofs and lifejackets before boarding the 12-metre long aero-dynamically designed fibreglass boat at St Katharine's Dock for the 40-minute breathtaking ride.
With an expert Skipper and a comic host on board, Rockets' engines are fired up and you're off at speeds of up to 35mph – to the chimes of Big Ben, the theme tune from Eastenders, Thunderbirds, Robbie Williams, England's World Cup win and the Beatles plus soundbites from a number of great Brits that have helped make Britain the glorious country it is.
There are lots more thrills and surprises, music and memories as Thames Rockets soar east, flashing past The Cutty Sark, The O2 and Greenwich to the Thames Barrier before heading back to its launch pad. The total journey – entirely in the new Thames High Speed Zone - is 20 miles, almost the distance between Dover and Calais.
The ride, which launches on Saturday July 27, seats 12 passengers and is recommended for children aged 10 and over. There is scope access so it can be experienced by people with disabilities.
Mr Matheson added: "We think this is fantastic fun and want as many people as possible to be able to experience it."
Book now, Thames Rockets is ready for lift-off!
Tickets for a Thames Rockets ride from July 22 cost £39.95 per adult and £29.95 per child (aged 10-14). Couple ticket £75, family £135 (two adults and two children). Charter £425. The boat departs hourly from Thames Rockets Launch Pad at St Katherine's Dock to the Thames Barrier, every Saturday and Sunday and on selected weekdays. Passengers will receive a 20% off voucher for friends/family to return. Pre-booking is essential on londonribvoyages.com/thamesrockets.