Up, up and away with Tahiti and her islands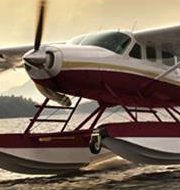 Launching in September 2013, visitors and locals alike are invited to take to the postcard-perfect skies above Tahiti and her islands with new tours and chartered flights offered by airline company Tahiti Air Charter.
With scenery ranging from rugged mountains to deep blue lagoons stretching across 2,500,000 square kilometres and 118 islands, Tahiti Air Charter provides a unique experience to see all this from above and explore from a different angle.
Discover a birds-eye view of the basalt peaks, canyons, waterfalls and plateaus offering a mysterious and fascinating view of French Polynesia's varied landscapes. Each of the many islands of Tahiti is a diverse paradise waiting to be discovered.
Tours of Bora Bora, Tupai, Tahaa, Moorea and Tahiti are offered, starting from approximately £196 per person. With plane capacity ranging from six to nine people, a personal and comfortable experience is guaranteed, with all participants ensured a clear view.
For those feeling adventurous there is also the opportunity to create an individual, private journey, perfect for creating lasting memories discovering French Polynesia's hidden gems, charting previously unreachable islands and spectacular views.
Pre-defined tours offer the highlights of Tahiti and her islands, viewed from a dramatic height.

Options include:
Romantic Bora Bora and Tupai Tour:
Ideal for romantics, combine Bora Bora, known as 'the jewel of French Polynesia', with a trip to Tupai. From the sky is the perfect perspective to view the beautiful heart-shaped island, an uninhabited and unspoilt island paradise. Only the wild birds and marine turtles will be around to disturb the peaceful tranquillity.
Vanilla Island Discovery Tour:
Experience Taha'a, where a wild and preserved landscape awaits. Marvel at the colourful lagoons, lush valleys and beautiful scenery beneath, from black pearl farms to the destination's abundant vanilla plantations.
Magical Moorea Sightseeing Tour:
Just a short hop from Tahiti, from mountainous PaoPao to the sailing boats entering Opunoho Bay, pineapple plantations and turquoise lagoons, there are many sights to be discovered on Moorea.
Tahiti Island Discovery:
Don't forget Tahiti! The main and largest island, discover its landscape from above including the cliffs of Matavai's bay and everyday life in Papeete.
Experience the natural beauty of Tahiti and her islands first hand with these great value packages:

Austravel is offering a 13 day holiday combining Tahiti and Moorea from £2,499 per person, including a saving of up to £270 per couple. Price includes three nights at the four star Radisson Plaza Resort in Tahiti, six nights at the four star Moorea Pearl Resort & Spa and another three nights at the Radisson Plaza Resort in Tahiti, boat transfers and return flights from London Heathrow with Air New Zealand and Air Tahiti. Travel in September 2013. To book visit austravel.com

Turquoise Holidays is offering an eight night holiday combining Moorea and Bora Bora from £3,959 per person, including a saving of up to £1,670 per couple. Price includes three nights in a Garden Pool Bungalow at Hilton Moorea Lagoon Resort and Spa, five nights in an Overwater Villa at Hilton Bora Bora Nui Resort and Spa, daily half board throughout, all transfers and return international flights from Heathrow (via Los Angeles) in economy class. Travel in September 2013. To book visit turquoiseholidays.co.uk

For more information on Tahiti and her islands visit: tahiti-tourisme.co.uk