Dr Bronner's Organic Baby Mild Range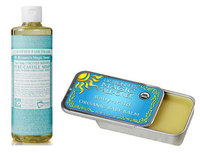 When it comes to the royal baby, not everything is about luxury presents. It requires to start thinking about what soaps would be the best for the baby's delicate skin. So, with Kate Middleton being a fan of Whole Food Market & Waitrose, we didn't want to miss the opportunity to suggest her the blissful Dr. Bronners Organic Baby Mild Range, a completely organic range that can be used for doing baby's laundry and even to clean their tummies.
This odourless scent magic soap recipe is based on a simple, ecological, vegetable based formulation, named after the Castile region of Spain where olive oil soaps were invented long ago, and with 18 uses in a bottle, is very convenient for busy mums that want the best for their kids or people with skin allergies or very sensitive skin to use it for the cleaning or the laundry.
The organic baby mild balm is perfect to use after showering/bathing with the Dr. Bronner's Baby Mild soap, as it restores and moisturises skin without being greasy. Based on pure organic oils and beeswax free of petro-chemically modified ingredients, the organic jojoba oil with organic beeswax avocado and hemp oils soothes dry skin leaving it soft and silky.
The Dr Bronner range is certified to the same USDA national organic standards that certify food, in which consumers put all their trust to ensure the organic integrity of organic labelled products.
Also available in peppermint, Eucalyptus, Citrus, Almond, Rose, Lavender and Tea Tree which can even be used to treat minor cuts and grazes.
Dr. Bronner's is available UK nationwide including Liberty, select Waitrose stores and leading health shops including Planet Organic and Whole Foods.