TV chef to teach at Swift House Cookery School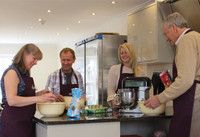 Swift House Cookery School, which has just opened in Bethersden near Ashford in Kent, has announced its programme of cookery courses, including a session with Dev Biswal, chef patron of the award-winning Ambrette restaurants in Margate and Rye.
Swift House Cookery School is owned and managed by Caroline Phillips, who studied at Ashburton Cookery School before going on to hone her skills at the prestigious Leiths Cookery School in London.
The School is sponsored by Callebaut – the famous Belgium chocolate company. It was Callebaut's internationally acclaimed Chocolate Academy where Caroline learned the craft of chocolatiering.
Caroline's vision for Swift House Cookery School has inspired a diverse range of professional and experienced chefs to join her to form an enthusiastic team who are keen to share their specialist knowledge with both amateur and more experienced cooks.

"Courses are designed to allow even the complete beginner to leave at the end of the day with a feeling of real achievement, having produced food to a professional standard whilst having great fun," said Caroline.
She recently met the Michelin-rated Ambrette's Dev Biswal giving live cooking demos at the Wealden Times Summer Fair, having previously seen his culinary skills on Channel 4 TV's 'Superscrimpers', where he is the resident chef.
"Dev's relaxed style and ability to create unique sumptuous dishes, with local and seasonal ingredients – using techniques which can easily be mastered by novice cooks, makes him an ideal guest chef for Swift House" said Caroline.
Dev gives regular cookery lessons to pupils at local schools and students of East Kent College.
All Swift House classes are limited to a maximum of just 8 people to ensure a high standard of individual attention. Dev will share his culinary tips of how to balance flavours, spices and textures to perfection at the school on Sunday, 20th October between 9.30am and 3.30pm. The cost is £125 per head.
Renowned for deft spicing and exquisite presentation, The Ambrette has recently been named as Best Restaurant by Produced in Kent, Best Indian Restaurant in Britain by Morrisons magazine and Best Indian Restaurant in the South East by the Cobra Good Curry Guide – despite not having curry on its menus.
Other Swift House courses cost between £39 and £135 per person including all ingredients. Sessions include how to make Gorgeous Truffles, Chocolate and Classic Vintage Cupcakes, Classic Roses in chocolate, flower paste and butter cream, Celebration Cakes, a Pastry Masterclass and Thai Cookery. There are also children's days and classes for would-be students about to start university, or young adults leaving home – and having to fend for themselves for the first time.
Swift House also offers Chocolate and Champagne Hen Parties, where up to eight chocolate loving friends can come together in a creative and fun environment learning how to temper chocolate, make ganaches, mould, and pipe delicate decorations like a professional.
Swift House Cookery School Gift Vouchers are also available.
Nearby overnight accommodation at local hotels and B+Bs can also be arranged for those travelling from outside the area.

The full schedule of cookery courses can be seen and booked online at: swifthousecookeryschool.co.uk
Swift House Cookery School, Swift House, The Street, Bethersden, Kent TN26 3AG