Life's a beach in Costa Barcelona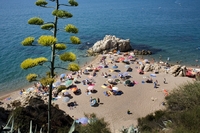 Catalonia has long been synonymous with beautiful beaches but choosing which to visit can be a tricky process. The region of Costa Barcelona has everything from long, sweeping white sand to secluded coves along its 100 kilometre coastline, making it the ideal holiday destination. Looking for inspiration and guidance? Here's our top pick of where to visit once you've landed in Barcelona.
1 Sitges

The city of Sitges is located in the Garraf region, to the south of Barcelona and showcases 26 beaches along an 18 kilometre stretch, all with pristine waters and many with Blue Flag status. Its position between the Mediterranean Sea and coastal mountain range means visitors can enjoy spectacular scenery - the area is an ideal leisure retreat.

From family-oriented beaches and small, peaceful coves, to urban beaches with views of the historic centre, each of Sitges' beaches have its own personality and atmosphere.
Aiguadolç - Aiguadolç is a stunning 200 metre beach, located in front of the Aiguadolç Marina that reaches 22 metres wide in some areas
Sant Sebastià - Situated in the centre of town, in the heart of an old fishermen's neighbourhood, Sant Sebastià is a family-oriented beach popular with locals. It spans 190 metres and has been adapted for people with limited mobility
Ribera - Due to its central location, the 260 metre long beach of Ribera is one of the most popular, busiest and cosmopolitan, in the area
2 Vilanova I la Geltrú

Also located in the Garraf region is the beautiful city of Vilanova I la Geltrú, to the south of Sitges. It's an ideal place to enjoy a variety of water based activities from swimming in the warm waters to sailing on the sea.
One of Vilanova i la Geltrú's main attractions is its six kilometre stretch of stunning beaches. These include Ribes Roges, Sant Cristòfol Lighthouse and Adarró. All are picturesque, quite and spacious, offering an ideal place to relax.

The city of Vilanova I la Geltrú has a rich maritime history showcased in the Marine Curiosities Museum and the fisherman's quarter, Llotja. The Llotja is a great place to visit and watch the fishermen return from their daily voyage and unload their catches of the day.
3 Castelldefels

Perfectly nestled between the distinct ecosystems of the Llobregat River delta and the limestone highlands of the Garraf Park is the town of Castelldefels, 18 kilometres south of Barcelona. It is an ideal holiday location for sports enthusiasts and families, having been awarded a DTE (Sporting Tourism Destination) and DTF (Family Tourism Destination).
The list of sporting activities available is endless, from sailing, rowing and kite surfing, to mountain biking, roller skating and beach volleyball. The area also has a stunning marina which includes the Blue Route, home to the Olympic Channel, built for the 1992 games. Visitors here can enjoy canoeing, join the Garbí Windsurf School or visit the Marítim Castelldefels Yacht Club.
Castelldefels Beach has been awarded four quality certificates for its five kilometre stretch of fine grained golden sand. The Blue Flagged beach area is fully equipped with modern facilities including showers, wooden gangways, child safe climbing frames, lifeguards, sitting areas and bathrooms, making it an ideal family day out.
4 Mataró

Located to the north of Barcelona in the Maresme region is the city of Mataró. With a rich cultural heritage, the city has a privileged geographic location, with the sea on one side and the coastal mountains on another. Its seafront boasts 2.2 kilometres of spotless beaches, popular with couples and families.
The city has four key beaches, including the largest and most popular Varador. It is ideal for sports fans and families due to its proximity to the city centre and its size. Also worth visiting are the large sandy beaches of Ponent, Callao and Sant Simó, all of which have spectacular seafronts.
After a day on the beach, head into the centre of Mataró and Passeig Marítim with its bars, terraces and restaurants. From its diverse range of gastronomy to traditional Mediterranean markets and waterfront marina, the city offers tourists an array of attractions to enjoy.
5 Calella

Also in the Maresme region to the north of Mataró is the stunning city of Calella. Well connected by train, the city has been awarded a DTF (Family Tourism Destination) and many of its beaches display Blue Flags. With three kilometres of golden sands, countless restaurants and a bustling nightlife, the area offers something for every taste.
Garbí – encircled by a beautiful promenade is Garbi beach. It's held a Blue Flag since 1994, along with a number of other national beach certificates of excellence
Gran – considered one of the best beaches in the region, Gran is home to a modernist promenade where visitors can enjoy a range of entertainment from concerts to children's entertainers and traditional sardana dancers
Les Roques beach - South of downtown, in the foothills of the National Park of Montenegro is Les Roques beach. Surrounded by pine trees and cliffs, the area also includes Roca Grossa, a small nudes cove and La Vinyeta a picturesque cove
For more information about the beaches of Costa Barcelona, visit barcelonaismuchmore.com and barcelonaesmoltmes.cat/en/costabarcelona.