Restore and explore at Casa Oniri in Barichara, Colombia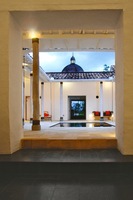 Casa Oniri Boutique Hotel, a restored and architecturally acclaimed Spanish Colonial mansion, is offering guests a chance to kick back and relax with the Relaxation package. Guests of the hotel are provided with a full-service bar, gourmet restaurant and enchanting rooftop terrace; and with only eight rooms, the utmost in privacy and intimacy can be expected.
Similar to a village described in a Gabriel Garcia Marquez novel, Casa Oniri Boutique Hotel is set amidst the less-hurried-pace of life of Barichara – an indigenous word that translates as " to rest".
The Relaxation package at Casa Oniri Boutique Hotel includes:
Two nights' accommodations
Welcome cocktail and fresh fruit platter
Partial massage: head, neck or shoulder
One rooftop terrace dinner for two
Daily breakfast for two
Complimentary Internet
Rates for the Relaxation package start at $400.00 USD based on a two-person occupancy; nightly accommodations can be extended for an additional fee. Casa Oniri is located in Barichara, a historical Colombian village that remains preserved since its Spanish colonization in 1654. Only 70 miles from the Bucamaranga International airport, transportation to-and-from the property can be arranged, as well as waterfall, horseback riding and hiking tours in the Santander region.
Regular room rates at Casa Oniri start at $170 USD, and include breakfast. Barichara is located in the Santander region of Colombia, offering unmatched beauty, adventure, and cultural history. The village is most famous for the Hormigas Culonas, translated as "Big-@ssed Ants," which are harvested once a year for culinary purposes.
About Casa Oniri: Casa Oniri rests on a quite cobblestone street amidst a 400-year-old Spanish colonial town that enjoys a microclimate, blue Mediterranean skies and great landscapes. Casa Oniri offers guests contemporary comfort, respite and tranquility, with only eight rooms, a restaurant, rooftop and terrace. It is a sophisticated hotel choice for the every-day traveler.
The region of Santander is home to adventures such as: kayaking, cycling, rafting, hiking, rapelling and ziplining. Close by is the Parque de Chicamocha in the Chichamocha Canyon. Barichara also offers great walking paths to nearby villages. To obtain more information on Casa Oniri, visit casaoniri.com. Connect with Casa Oniri's official Facebook page by visiting facebook.com/casaoniri.