Skinny jeans top the list of best-loved fashion items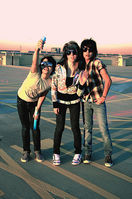 Skinny jeans have been named Britain's best-loved fashion item of all time, a survey has shown. The skin-tight denim trousers that became popular a decade ago came top beating classics such as the 'little black dress', the biker jacket and even the iconic 60′s miniskirt.
The skinny-legged jeans, made famous by the likes of Kate Moss, Sienna Miller and Cara Delevingne, beat all other varieties including flares, boot-cut and hipster styles.
Other loved fashion items to make the top 30 list were ballet pumps, the push-up bra and a classic denim jacket, revealed in the poll by the UK's largest online market place, eBay.
The maxi dress and leggings, which have had a resurgence of late, also made the top 30 list.
Staple wardrobe items like a white t-shirt, black blazer and shift dress were also on the list, as was a traditional trench coat and a cosy pair of sheepskin boots.
Completing the top twenty was the popular bodycon dress made famous by the likes of WAGS and the TOWIE cast.
More classic fashion staples that made the most loved list were polo neck jumpers, military jackets and a trusty checked, lumberjack shirt.
The 2000 women polled also said that tops made up the majority of their wardrobe, followed by jeans and dresses respectively.
Celebrating the 140th anniversary of jeans, the research additionally revealed that the average British woman spends an average of £33 on a pair of jeans, and owns a total of seven pairs.
However, one in 20 females say they had between 16-20 pairs.
Emily Kerr, UK head of fashion at eBay says: "Jeans are a fashion staple that have well and truly stood the test of time.
"Skinny jeans are a modern twist on the traditional style of jean, but that just shows how the shape and cut of jeans has varied over the decades.
"There are currently over 678,000 live listings of jeans on eBay from fashion retailers such as French Connection, Superdry, House of Fraser and smaller businesses as well as vintage pieces from consumer sellers.
"Over 80,000 of these jeans are in the nation's favourite skinny style."
Two thirds of British women said that jeans are the item of clothing that they wear most regularly and 84% of recipients agree that jeans are a classic wardrobe staple.
In contrast, the shell suit was rated as the worst fashion item of all time by a third of ladies just ahead of the 80′s favourite – the puffball skirt.
Other fashion horrors to emerge were bumbags, leather trousers and leg warmers.
In addition to cagoules, hoodies and ponchos.
Crop tops and sheepskin boots seem to divide the nation's fashions lovers as they appeared on both the best and worst list.
The poll also found that nineties girl band B*witched were the celebs most associated with denim, followed by James Dean and John Wayne.
Laura Pattison, Director of Marketing and Communications at Jeans for Genes Day added: "The Jeans for Genes Day team are delighted that we have been chosen as the official charity of eBay's 140th anniversary of jeans campaign. The money that will be raised from the B*Witched auction will be invaluable to us and make a huge difference to the lives of the children our charity helps."
Most loved fashion item
1. Skinny jeans
2. Little black dress
3. Boot cut jeans
4. Maxi dress
5. Leather biker jacket
6. Knee-high boots
7. Mini skirt
8. Stilettos
9. Leggings
10. Push-up bra
Most hated fashion items
1. Shell Suit
2. Puffball skirt
3. Bum bag
4. Crocs
5. Leather trousers
6. Monokini
7. Leg warmers
8. G-string
9. Shoulder pads
10. Platform trainers
eBay has also teamed up with pop band B*Witched to host an exclusive celebrity auction in aid of UK charity, Jeans for Genes Day. The group, who were named the celebrities most associated with their denim style by the poll of 2,000 people, have donated their favourite pieces of denim from the 90s along with VIP backstage packages – including a meet and greet – for one of their highly anticipated 'The Big Reunion' shows.