How to get enchanted 1920's fashion - Gatsby inspired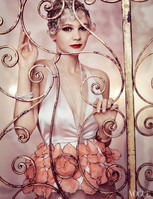 Fashion fades away, style never die. Since the movie 'The Great Gatsby' hit the big screen in May, the 1920s style is definitely becoming hot fashion again! Ladies are eager to embrace the gorgeous retro style and throwback to an elegant vintage look. There is no doubt that this year's number 1 party theme is 'The Great Gatsby'! So, if you are lucky enough to get invited to a Gatsby themed party, what to wear?
The flapper dresses are the essentials of you want to achieve a Gatsby fashion look. Not only were the dresses fun and flirty but also feminine. Think feathers, fringe and beads! Not to mention the drop waist style flatters most body types. If you are looking for an updated version of Gatsby dress, try online with the flapper dress or simply a drop waist gown.
In 1920s, women didn't always wear short dresses though. For evening looks, they tend to choose longer dresses, however, with sleeveless designs. Try a long sequin and beaded dress to get a more modern evening look.
Right accessories are the key to the whole 1920s look. Add a Gatsby touch with a long pearl necklace. Besides, the 1920s jewelry fashion was also defined by tassel beaded necklaces, dangling earrings. Moreover, hatpins and beaded headbands are an integral part of creating the Great Gatsby look. Beaded headbands and hairpieces are bridal essentials in bridal industry but it's so great to see them crossover into mainstream fashion as well as side tiaras.
As to shoe, think about T straps, pumps and ankle straps. Evening shoes were typically 2 to 2 ½ inches with a pointy toe (in the first half of the 1920s) with a curved or blocked heel. Towards the later half of the 1920s the pointy toe took a more curved look. For day wear shoes were only about 1 to 2 inches tall.
Maybe you want to dress as Daisy Buchanan? Try a feather boa, long string of pearls, lace dress, Chanel perfume, cloche hat, and you are ready to go!