Walking with bears a necessity in Slovakia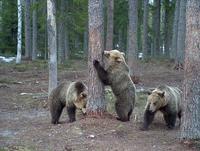 Walks Worldwide has the perfect trip for those with a passion for both trekking and wildlife; the new Walking with Bears trip to the High Tatras Mountains of Slovakia, departing 15 September 2013.
The holiday has been created in conjunction with a local conservation group and national park rangers, in order to access areas that are normally out of bounds to tourists; no other UK operator is able to offer such an experience.
The High Tatras are the highest mountains in the Carpathian Arc, stretching from Romania to the Czech Republic. The range is small in area but they are very steep and provide the only High Alpine environment in Europe north of the Alps.

There are a number of well-marked tourist trails but the highlight of this new trip are the days spent off the trail, following animal tracks and ancient smuggling paths in the company of guides who know the region and wildlife inside out.
This trekking holiday with a big difference, provides the chance to walk not only in a spectacular mountain area populated by bears, but with the intention of seeking the mighty beasts on foot (at a safe distance).
Comments Mark Wright, Managing Director of Walks Worldwide: "I did a reccee of this trip with my teenage son and it is one of the best travelling experiences I have ever had.
Rather than sit in a hide for hours on end (the usual practice for bear-watching trips) we walked with our guides to locate and observe the bears in their natural habitat. It was wonderful."
This Carpathian wildlife walking odyssey commences in Poland and initially follows recognised way-marked trails across the High Tatras, descending into Slovakia.
Reaching the Ticha, the group will be joined by a Park Ranger who will take the group 'off piste' and walk amongst the mountains and valleys in an area where tourists are usually forbidden.
This unique opportunity is restricted to a maximum group size of eight people, to minimise disturbance. Walking is graded as 'demanding', trekking at altitude on mountainous terrain for up to 9 hours per day.
The trip departs on Sunday 15 September and costs from £1098 pp (two sharing).
This includes flights, all ground transportation, 7 nights' accommodation, most meals and the services of a tour leader. Land-only prices are available for those who prefer to book their own flights.
For more information, visit walksworldwide.com.