Embrace Great Britain and enjoy family adventures in the UK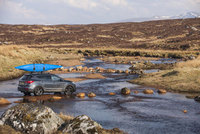 With falling numbers of Britons travelling abroad for holidays in recent years (according to the Office for National Statistics), Andy Torbet - Scottish explorer, extreme adventurer and BBC TV presenter - has been working with Hyundai to show that you don't need to get on a plane to feel like you've got away from it all because the UK itself has spectacular potential for adventure.

Whether you're looking to get away with friends, family, or simply for some alone time, Andy and Hyundai demonstrate how to escape the stresses of everyday life and enjoy the outdoors.

Showcasing an option for where you could go providing you have a capable vehicle, Andy took his versatile New Generation Santa Fe SUV off the beaten track to the Scottish Highlands.
The adventurer packed his Santa Fe full of all the essential adventure kit and then embarked on a seven hour road trip from London to Glencoe. From sea kayaking to island hopping, there are so many activities that can be done in the UK to suit all abilities and budgets.

Sit-On-Top Sea Kayaking

Sit-On-Top Sea Kayaking can be simple and fun to do. There are centres around the UK that will hire one- and two-man kayaks (the two-man is great for adults to share with a child) for a day or half day at little more than £20. It gives you the freedom to explore the stunning coastline that is unreachable by car or on foot.

Around Oban in the North West highlands, there is a lot of interesting, beautiful and safe paddling to be done. Oban has a kayak hire shop that can advise on where is best to go on the day. Don't be surprised if you see seals playing around your boat either – they are very common in this area.

After a day of kayaking, you could enjoy the tranquility for a little longer by wild camping. On Andy Torbet's trip to Glencoe, he paddled to the beautifully small and uninhabited Shuna Island, an island in Loch Linnhe, offshore from Appin. The island may be uninhabited by humans, but it has a very healthy population of Red, Roe and Fallow deer; along with Otters, Common and Grey Seals, Porpoises and Dolphins out on the water. You could kayak to this Island, take a gas stove to cook up some food, and then spend the night stargazing before drifting off to sleep to the sound of the waves.

If you can't get to the Scottish Highlands, there are plenty more opportunities for kayaking elsewhere in the UK, including North Devon, South Devon, Dorset, Cornwall, Pembrokeshire and North Wales. In Cornwall in June, many families use Sit-On-Top Sea Kayaking to go out looking for Basking sharks, the second largest fish in the sea and often 25 foot long - but don't worry they only eat plankton!

If you want to find out more about sea kayaking, courses, or centres in the UK, visit Sea Kayaking UK for more information.

Island Hopping

Scotland has 790 islands of which only 99 are inhabited, so there's a good chance that you could have your very own island for a day. Most of the Islands are over in the North West and linked by ferries. Take a drive up through the stunning Pass of Glencoe (voted one of UK's most beautiful roads) and push North to the Skye Bridge. The first island on your list is already accomplished as you reach the Isle of Skye and your hopping point to the Outer Hebrides. A ferry will take you to the Isle of Lewis where you can drive South through relatively flat but rolling hills and across a land bridge to the Isle of Harris, where the geography becomes much more mountainous. Then it's a short ferry hop to Berneray and from there a drive over a causeway will take you to North Uist. A single 'ring road' encircles the island and once you've enjoyed some of the best beaches in the UK, you can head South again to cross another two causeways (the second of which is almost a mile long). This will see you into Benbecula, South Uist and finally to the Isle of Eriskay. A penultimate short ferry hop will take you to Barra where your last ferry will take you back through the Sound of Mull to the mainland at the port of Oban.

Elsewhere in the UK, you can take a trip out to the Farnes of North East England, or drive over to Anglesey in North Wales. For a longer day out, head over to Lundy in the Bristol Channel, between North Devon and Wales.

Snorkelling

The British Isles have plenty of amazing places to explore the underwater world. Two of Andy Torbet's favourite snorkelling spots are in the North West Highlands. In this area there are quiet fresh water pools created by the River Orchy and the River Etive near the Glencoe Pass. The seashore around Oban and, further North, the Isle of Skye, are busy with marine life and the chances of swimming with Grey Seals are always good.

Elsewhere in the UK, the River Lune at the Devils Bridge in Kirby Lonsdale is another great fresh water site and the coastlines of Pembrokeshire, Devon, Dorset and Cornwall are packed with rocky reefs and sandy shores to investigate the aquatic world. One of Andy's top snorkel sites in the UK is the pier at Swanage in Dorset.

Visit the British Sub-Aqua Club to find out further information on snorkelling centres and courses in the UK.

Wildlife Spotting

There are plenty of places to go and see wildlife in the UK but the Highlands of Scotland, with its hundreds of square miles of uninhabited wilderness, takes some beating. Driving around the Highlands will allow you to see Golden Eagle, Red Deer, Otter and now Beaver...and maybe Nessie as the main road hugs the banks of Loch Ness! A ferry across to islands like Mull often give an even greater chance of seeing wildlife as it's concentrated in a smaller area - rare birds like Sea Eagles are a common sight here. In the seas of the West Highlands, whales use the channels between the Hebrides and Mainland to travel North-South. Minke, Pilot, and even Humpback and Orca whales are spotted here along with the greatest number of Basking Sharks in the UK during the August season.

If you want to spot ancient wildlife, take a drive up to the Highland Wildlife Park near Aviemore where the park has animals including those that used to inhabit the UK until recently like Wolves, Bear, Lynx and Moose.

Elsewhere in the UK, Basking Sharks, Giant Sunfish and even turtles have been spotted in Cornwall, Pembrokeshire and the Isle of Man.

Walking/Hiking

The Nevis Range in Scotland is a great place to go for a day of hiking. Here you'll find the UK's only Mountain Gondola which will transport you from 100m to 650m on the slopes of Aonach Mor. You'll be able to hike your way across the stunning mountains and breathe in a good dose a fresh Scottish air. If you're not feeling too energetic, jump on the gondola and take in breathtaking views, which will include Britain's highest mountain, Ben Nevis.

In Scotland, there are four officially designated Long Distance Routes, plus 16 routes in Scotland's Great Trails, covering over 1,300 miles of breathtaking landscape from the Borders to the Highlands.

Elsewhere in the UK, there are numerous opportunities for either day long hikes or a light walk. For long distance country walks, look out for National Trails. There are 15 Trails in England and Wales, covering approximately 2,500 miles of some of Britain's finest landscapes and taking in some great historical sites along the way. Scenic walking routes can also be found in Britain's cities. Get Walking has plenty of shorter routes to help you discover some of the hidden gems of cities including London, Manchester, Birmingham and Swindon.

Andy Torbet explains why the Santa Fe is his perfect expedition partner: 'The Santa Fe is the ideal vehicle for the antics I find myself getting up to these days.'

'It's robust enough to carry four expedition sea kayaks on the roof, tow a dive boat and take a mountain of climbing kit in the back. It's also roomy enough to fit a single mattress with plenty of room for all the equipment - I've spent many nights in my Santa Fe staring up through the panoramic roof stargazing, and I always get a great night's sleep.'

'The Santa Fe is a versatile vehicle for a busy lifestyle. When I have long drives to do though, it's great that I can do them in comfort and style so I arrive fresh and ready for action. With the vehicles four wheel drive ability, it also means that I can venture off road to the remotest of locations without the worry of getting stuck!'

Speaking about why he's so passionate about adventure and promoting it to others, Andy commented: 'After leaving the Army, a life of adventure was an easy transition to make. The challenge spurs me on, along with the chance to see some spectacular parts of our country and the world.'

'But it's when adventure becomes exploration that I get truly excited. Whether it's mapping new underwater cave systems, finding lost shipwrecks, climbing new routes, or exploratory kayaking trips - the draw of new discoveries and the potential of the unknown is the real goal.'

'If I can inspire people to try their own adventure along the way, from snorkelling your local river to cave diving in Mongolia, then that only inspires me to try harder.'

For more information about holidays in the UK, visit: visitscotland.com and visitbritain.com

Please note that some of the activities outlined do have potential risks involved, so please ensure that all professional advice and instructions are followed for a safe adventure.

The New Generation Santa Fe is available from £25,850 OTR and is powered by a 2.2-litre CRDi engine delivering 197PS and 311lb ft of torque. It was awarded safest 'Large Off-Road 4x4' in 2012 by Euro NCAP.

As with all new Hyundais, the Santa Fe is backed by Hyundai's 5 Year Triple Care package which includes a 5 year unlimited mileage warranty, 5 years roadside assistance and 5 years free vehicle health checks.

About Andy Torbet

Born in Irvine, Scotland, Andy was raised in the area that became the Cairngorm National Park, developing his passion for the natural world at an early stage.

Andy has a degree in Zoology and a diploma in Archaeology, and spent 10 years in the British Forces as a Paratrooper, Diver and Bomb Disposal Officer.

At the age of 12, Andy started diving, and has continued ever since. His diving experience spans from commercial vessels to over sunken cities, caves, deep wrecks and across abundant reefs.

As well as diving, Andy is also a highly qualified mountaineer, climbing instructor, caver and sea-kayaker.

Follow Andy Torbet's Adventure on Twitter @AndyTorbet