Grand events at The Mulia, Mulia Resort & Villas - Nusa Dua, Bali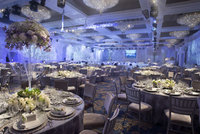 With stunning beach frontage along Nusa Dua's Bay, The Mulia, Mulia Resort & Villas - Nusa Dua, Bali evokes a relaxed yet polished sensibility.
As a leading independent luxury hotel in Indonesia exhibiting a premium and luxurious product, The Mulia, Mulia, Resort & Villas offers exceptional facilities and services with an impeccable level of personalized service and unswerving dedication to customer care; making the resort a real sanctuary for discerning MICE travellers.
The Grand Ballroom and 15 Conference Rooms, with accommodation for up to 5,000 guests, set the ideal stage for one-of-a-kind island celebrations, lavish executive retreat meetings and unforgettable social events. Elegantly designed with the highest quality crystal chandeliers, marble and custom made carpets, the Grand Ballroom provides an exclusive facility for those who seek for a high-end venue on the island. A dedicated team is on hand to take care of all your event needs with personalized attention to detail and of course the unique Mulia touch.
The sheer choice and calibre of its gastronomy will surprise the island. Eight food and beverage outlets is are incorporated into the Resort ranging from afternoon tea to authentic Mediterranean cuisine; all prepared by a high profile culinary team and chefs with truly global backgrounds. Guests may enjoy the inspirational dishes from all corners of the globe, and seduce the senses without compromise.
Mulia Bali's exclusive facilities, impeccable personalized service as well as world class gastronomic experiences with Michelin Star Calibre Chefs makes Mulia Bali as a destination that offers a complete package for the ultimate MICE experience.
For more information, visit themulia.com.