Peugeot new car offers for September plate change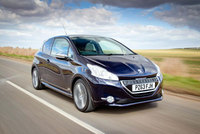 With the new '63-plate' registrations entering the market next month, Peugeot Dealerships across the UK are well-placed with an extensive range of models that includes Hatchbacks, Saloons, SWs, People Carriers, Crossovers, Compact MPVs, Coupé Cabriolets and Sport Coupés, plus a comprehensive four-model van range.

With three critically acclaimed new products launched in the last few months – the 208 XY and GTi superminis, plus the sophisticated 2008 Compact Crossover – there's never been a better time to visit a Peugeot Dealership. In addition Peugeot has announced a range of seasonal offers to tempt buyers into its showrooms.

On the ever-popular Peugeot 107 city car, late summer offers include a Dealer deposit contribution of up to £625 for customers buying through Peugeot Passport, the brand's personal lease plan with a low APR rate of just 5.9%.

Passport puts a brand new car within reach and features fixed monthly payments to help budgeting. It's a fixed-term contract with flexible options upon completion.

It means that with a customer deposit of just £129 and 36 monthly payments of £129, customers can drive away a brand new Peugeot 107 Access three-door model.

The same low 5.9% APR also applies to Passport customers choosing any version of the Peugeot 208 supermini, including the luxurious XY and performance-oriented GTi.

The same sensational offer is also available on the all-new 2008, the newest car in the Peugeot family. The versatile compact crossover is priced from just £12,995, and includes a choice of four trim levels. Grip Control, Peugeot's innovative enhanced traction technology, is available as standard on certain models.

Consumers can also benefit from Peugeot's unique and highly popular 'Just Add Fuel®' offer which has recently been extended to include 21 year old drivers. Just Add Fuel® provides three years' servicing, roadside assistance, warranty, road tax and insurance all for one monthly fixed payment and fixed over three years. Improved and with variable inputs, Just Add Fuel® prices remain very competitive and it is now possible to get a brand new Peugeot 208 1.0-litre VTi Access from just £179 a month.

Just Add Fuel Offers include:

107 3dr Active 1.0-litre - £135 per month (with a £1,500 deposit)
208 3dr Access 1.0-litre VTi 68 - £179 per month (with a £1,500 deposit)
2008 Access+ 1.2-litre VTi 82 - £238 per month (with a £1,500 deposit)
308 Access 1.4-litre VTi 98 - £264 per month (with a £2,000 deposit)
308 CC Access 1.6-litre VTi 120 - £350 per month (with a £2,000 deposit)
3008 Allure 1.6-litre VTi 120 - £277 per month (with a £3,000 deposit)
5008 Allure 1.6-litre VTi 120 - £314 per month (with a £3,000 deposit)

More information is available at peugeot.com Terms and Conditions apply – Just Add Fuel is not available in Northern Ireland.