Deezer opens a new Window to music discovery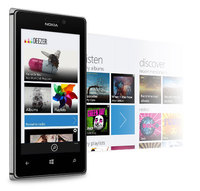 Deezer has announced its new app on Windows Phone 8, featuring a brand new home screen with a focus on content, and a host of enhanced features for Windows Phone 8 owners.
The new app has been engineered for music discovery, with its home screen featuring recommendations of the hottest tracks as chosen by Deezer's dedicated editorial teams all over the world. Recommendations of albums and playlists will also sit under the 'Discover' section.
Unlike other digital music services that rely purely on algorithms to make recommendations, Deezer is unique in that over 20% of its global team are employed to hunt out the best in new music. These dedicated music fans listen to over 250 albums a week across every genre – hand-picking the best new music from their country.
With Deezer on Windows Phone 8, it's not just the editorial teams who get to share their favourite tunes. The new app allows people to share the tracks and playlists they love, so they can recommend their own hot new pick to millions of other music fans around the world.
In addition to music discovery, the app has been designed to give people quick and easy access to their favourite albums, playlists and artists through the Windows Phone Live Tiles, direct from their home screen.
And if that wasn't enough, Deezer subscribers can also quickly and smoothly sync playlists and albums directly to their phone, meaning music lovers in over 180 countries will have all the benefits of a virtual jukebox in their pocket – without having to worry about data charges on their phone bill.
Daniel Marhely, founder of Deezer, said: "Beyond the editorial recommendations and access to Deezer's 25 million tracks, the design of the new Windows Phone 8 app provides a really sleek experience. The tiles, huge cover art and a smooth user interface take full advantage of the Windows Phone 8 platform and give people a great way to listen to and share their music."
Todd Brix, General Manager, Windows Phone Apps, Microsoft Corp. commented: "Deezer's commitment to take advantage of personal features available only on Windows Phone will create a unique music experience for people on the go."
The Deezer Windows Phone 8 app is available now and is compatible for all the Windows Phone 8 devices and free in the Windows Phone Store.