The battle of the blondes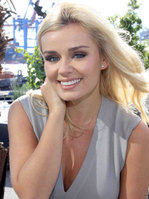 As the spat between Katie Hopkins and Katherine Jenkins rages on, whose side are you on? Viscous Katie Hopkins, who shot to fame in 2006 when she appeared on The Apprentice seems to have taken to slating every man, woman and child (or at least children called Tyler) and her latest target is welsh beauty, Katherine Jenkins. Katherine's apparent crime is that 'she is the walking embodiment of female perfection' and a 'little miss perfect'.
Whilst Katherine has been slammed in the press before, most recently being accused of running the London Marathon in full make-up, she is actually a fan of natural beauty. She cites the Jason C-Effects CRÈME as one of her skincare essentials saying, 'I love this product'. Based on the philosophy of creating natural and effective skincare products the C-Effects crème is rich and luxurious, specifically formulated to reverse the skin ageing process.
The technology behind Jason C-Effects lies in the exclusive Multi-Antioxidant Complex, powered by Ester-C. Ester-C is the most stable, naturally derived and deeply penetrating form of natural Vitamin C. The complex contains a potent blend of free radical-fighting ingredients, including Vitamin E to naturally moisturise and hydrate, and Green Tea to further protect the skin from environmental aggressions. Thioctic Acid, an essential nutrient and natural anti-oxidant aids by maintaining a healthy complexion and even skin tone.
The conclusion? If this crème delivers skin like Miss Jenkins we don't need much persuading to give it a try, after all surely there's worse things to be called!
For further information on Jason natural care products visit jasonnaturalcare.co.uk.