More 'Silverware' for Trevor Ratcliffe Distribution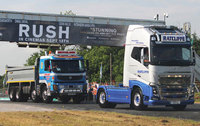 Trevor Ratcliffe's new Volvo FH16-750 having made an instant and lasting impression at the recent Truckfest at Peterborough went on to take the 'Top Truck 2013' award back home at the re-established Mondello Truck Show.

The Dublin-based transport operators new FH16-750 - the first in Ireland - was a big draw at Mondello Park, which made a welcome return to the Truck Show scene after a ten-year absence.

As can be seen in the accompanying photograph, Trevor's new FH16-750 tractor underwent a significant makeover, a fact which was acknowledged by the adjudicators. Apart from the superb metallic silver paint job, its customisation included the fitting of aerodynamic side skirts, catwalk infill and polished alloys together with a stainless steel replacement of the front grille.

The 'Top Truck 2013' award winner also went on to take runner-up in the Irish Road Haulage Association (IRHA) Members category.

Volvo Trucks was prominent among the much sought-after prizes at Mondello with Dixon International (Dublin) taking the Best Freight Transport Association Ireland (FTAI) members award and silver in the Best Fleet category (for their FH-460s lined up).

Naas-based Hanlon Concrete's immaculate FM13-400 8x4 Cement Tanker was second in the 'Best Rigid' category while Kenneth Ledwith's FH12-460 from Longford, was awarded third in the 'Owner Driver' class. Interestingly, Trevor Ratcliffe, Dixon International, Hanlon Concrete and Moyglare are all customers of Irish Commercials.

Rounding off a successful weekend, the 1984 Volvo F7 tractor unit, lovingly restored by Oliver Flanagan (Co. Clare) won an award for the 'Best Classic Volvo' on display.

Volvo Dealer Irish Commercials showed the strongest presence of all the dealers / manufacturers at the show, flying the flag high for Volvo and exhibiting a fleet of 6 vehicles including the new and classic FH, classic FL, classic FMX and were delighted to premier the new Volvo FM, for the first time in Ireland since its launch.