NYC & Company announces two-for-one theatre tickets during Broadway Week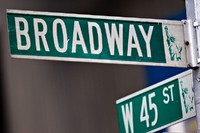 Broadway Week returns to New York City this autumn, offering theatregoers two-for-one tickets to 19 popular Broadway shows. NYC & Company, New York City's official marketing, tourism and partnership organisation, has opened bookings, for performances during Broadway Week – 2nd – 15th September 2013.
Returning for its sixth iteration, Broadway Week was created in the winter of 2011 to boost ticket sales for Broadway while providing savings for New Yorkers and visitors alike. Through NYC & Company's Broadway Week promotion, more than 300,000 theatre tickets have been sold, generating nearly $20 million in revenue. Tickets for Broadway Week Fall 2013 are on sale at nycgo.com/broadwayweek.
"Nothing says New York City like Broadway," said CEO of NYC & Company George Fertitta. "Each year millions of New Yorkers and tourists visit Broadway to experience the unmatched creativity and talent that define our theatres. Through NYC & Company's Broadway Week two-for-one ticket promotion, we are giving everyone the opportunity to enjoy some of the best theatre in the world at an affordable price."
"Broadway contributes over $11 billion to the economy of New York City on top of ticket sales and supports 86,000 local jobs. NYC & Company's innovative two-for-one programs benefit the city, the industry and, of course, the consumer," said Charlotte St. Martin, Executive Director of The Broadway League. "Broadway Week has become a much anticipated fall tradition for everyone."
New Broadway Week participants this autumn include the award-winning shows The Trip to Bountiful and Rodgers & Hammerstein's Cinderella as well as the highly anticipated productions of Big Fish and The Glass Menagerie.
Shows participating in Broadway Week Fall 2013:*
Annie
Big Fish
Chicago
First Date
Forever Tango
The Glass Menagerie
Jersey Boys
Let It Be
The Lion King
Mamma Mia!
Newsies
Once
The Phantom of the Opera
Rock of Ages
Rodgers & Hammerstein's Cinderella
Soul Doctor
Spider-Man: Turn Off the Dark
The Trip to Bountiful
Wicked
*Subject to availability. Blackout dates may apply.
Broadway Week is produced by NYC & Company in partnership with The Broadway League, American Express, AARP, Amtrak and NBC 4 New York.
During this autumn's promotion, long time NYC & Company partner American Express presents 'Inside Broadway', a behind-the-scenes look at some of the professionals involved in bringing Broadway to life. The series of interviews include original photography along with insider tips on how audiences can enjoy Broadway – and New York City – to the fullest. The interviews are posted on nycgo.com/broadwayweek and feature:
Matthew DiCarol, production stage manager for Rock of Ages
Brian Ronan, sound designer for Annie
Duncan Stewart, casting director for Chicago
Anna Louizos, set designer for Cinderella
For more information about Broadway Week, visit nycgo.com/broadwayweek.