Oyster Shucking Competition at Bluebird in Chelsea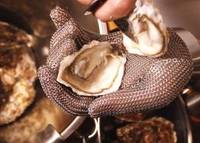 Chainmail gloves and knives at the ready…In celebration of native Oyster season, on 7th September Bluebird will be hosting its infamous annual Oyster Shucking Competition. Competitors will have to show they've got what it takes and shuck, dress and eat their oyster in as quick a time as possible. All contenders will be rewarded with a complimentary glass of wine, and are of course allowed to eat the oyster they've battled with. The triumphant winner will win a bottle of Moet & Chandon Champagne. Premium supplier Oyster Meister will set up stall at Bluebird on the day, selling the freshest of Oysters to mark the new season. Visitors can enjoy food hot off the barbeque whilst watching the competition in Bluebird's autumnal courtyard.
To purchase your ticket and sign up to compete, contact emilyb[at]danddlondon.com. Tickets cost £10 per person.

Bluebird is a landmark London restaurant situated on the bustling King's Road. Visitors to this renowned Chelsea venue can expect a stylish and fun experience, with a restaurant and bar, a café and courtyard, plus a food store, wine cellar and bakery. A range of delectable contemporary British dishes is on offer from the menu created by head chef Matt Robinson, while an extensive selection of cocktails are available at the bar.
For more information, visit bluebird-restaurant.co.uk