Explorers announces eclipse tours for 2016/17 after 2015 sells out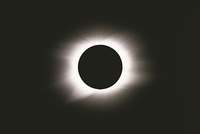 Solar eclipses may only last for a few minutes, but trips to see the phenomenon sell out so far ahead that Explorers Astronomy Tours has announced its programme for eclipse tours up to 2017, when a much-anticipated total eclipse will take place in the USA.
A waiting list is currently operating for Explorers' trip to see the High Arctic Total Eclipse in 2015, which sold out some months ago, and demand is expected to be just as high for the newly announced tours which include:
Indonesia Total Eclipse, March 2016
The eclipse will pass across the islands of Sumatra, Borneo, Sulawesi and Halmahera, before heading across the Pacific Ocean on March 9, 2016. As well as viewing this astronomical phenomenon, a series of itineraries will enable travellers to explore the diverse culture, incredible wildlife, and breath-taking scenery of these tropical islands.
Tanzania Annular Eclipse, September 2016
The moon will pass across the face of the sun on the morning of September 1, 2016, creating a 'ring of fire' eclipse in southern Tanzania, close to the Mozambique border. This tour will combine the eclipse with a chance to spot the 'big five' at Selous, the largest game reserve in Africa, and there will be an optional extension to the nearby spice island of Zanzibar.
USA Total Eclipse, August 2017
The track of the eclipse will cut right across the United States, from Oregon on the Pacific coast to South Carolina on the Atlantic coast. Explorers has selected Jackson in the 'Cowboy State' of Wyoming as a base, close to magnificent Yellowstone National Park with its geysers, hot springs, mountain lakes and grizzly bears. Several itineraries will run, offering the chance to explore Salt Lake City, Chicago, a host of Californian national parks and cities, or the Canadian Rockies, as well as viewing the eclipse on August 21, 2017.
"Eclipses are spectacular to witness and they don't come along too frequently, so there's a great sense of anticipation and excitement around them," said David Phillips, Operations Manager at Explorers. "Whether you're a dedicated eclipse-chaser or just interested in the night sky, we'll be offering a range of itineraries that will enable you to see these spectacular events and experience the destination's highlights, but based on past experience you'll need to book well ahead to avoid disappointment."
Explorers has also released 2014 and 2015 departure dates for its Icelandic Northern Lights tour and Northern Lights Short Break. With solar activity due to peak around 2013 - 14, the Northern Lights are expected to put on a spectacular display again this year and although a viewing can never be guaranteed, Explorers has achieved a 100% success rate to date.
Unlike most operators who base their Northern Lights trips in or near Reykjavik, Explorers' tours stay on the remote shores of Lake Myvatn in northern Iceland, where there are optimal viewing conditions. Tours are scheduled to coincide with a new moon, to maximise the chance of witnessing the lights and all tours last at least five days, to allow several opportunities to see the display. Groups are accompanied by leading astronomy experts, who use their knowledge to help travellers get the most from what is often a 'once-in-a-lifetime' experience.
Detailed itineraries and prices for Explorers 2016/17 eclipse tours will be available shortly on its website astronomytours.co.uk but travellers who want to ensure they don't miss out can register their interest now by sending an email to astro[at]astronomytours.co.uk