'Wreck Trek' dive initiative showcasing Florida Keys shipwrecks extended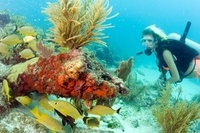 Thousands of certified divers visit the Florida Keys annually to dive a string of sunken vessels and artificial reefs between Key Largo and Key West, prompting the extension through 1, January 2014, of a popular "Wreck Trek Passport Program" that rewards divers for logging a series of wreck dives.
Shipwrecks and artificial reefs are among the island chain's most appealing dive features. As in the inaugural program that debuted in 2010-12, divers are to receive an official Florida Keys Wreck Trek logbook upon reserving a dive trip with one of more than 30 participating dive shops. They can use the logbook to track their dives and retain it as a memento of the experience.
The logbook highlights nine interesting sites that span the length of the Keys: the 510-foot Spiegel Grove, U.S. Coast Guard cutter Duane, the English-built merchant marine freighter Benwood, former cargo transporter Eagle, aptly named electrical energy and lightning-strike research vessel Thunderbolt, 210-foot island freighter Adolphus Busch Sr., 187-foot buoy tender Cayman Salvager, 75-foot shrimp boat Joe's Tug and retired missile tracking ship Gen. Hoyt S. Vandenberg.
Vandenberg and Spiegel Grove are the world's second-and third-largest vessels, respectively, ever intentionally sunk to become artificial reefs.
Divers who complete five of the passport logbook's wreck dives, one in each region of the Keys, receive a personalized print of Florida Keys shipwrecks. Upon completing all nine dives, participants are provided a validated entry form that they must mail in by 1 January 2014, to qualify for a chance to win a grand prize.
Sites along the Wreck Trek are geared for divers of varying skill levels, and some are considered advanced because of their depths. It is recommended that divers be current with their diving, as well as having advanced or wreck-specialty training. Local dive shops may ask divers to present a logbook or dive computer to be reviewed for air-management skills and depth profiles from previous dives.
Certified divers also can enrol in refresher, advanced, wreck or Nitrox specialty certification classes with one of several professional training facilities in the Florida Keys.
Divers are encouraged to contact participating dive operators for information about the wrecks.
Wreck Trek Passport Program information: fla-keys.com/diving/wrecktrek
For further information on the Florida Keys & Key West, visit fla-keys.co.uk