Indonesia's tourism receives a boost with launch of new hotels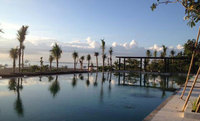 The Republic of Indonesia is expanding its ever-growing selection of deluxe properties, with the launch of several new hotel hideaways and romantic retreats on the beautiful island resort of Bali. Further good news is that these latest developments will be operated by some of the world's most revered luxury brands, including Ritz Carlton, Le Méridien and Regent Hotels & Resorts.
Testament to the increased efforts of the Ministry of Tourism and Creative Economy to improve luxury tourism in Indonesia, these new hotels will offer even more choice for holidaymakers seeking an upmarket break in one of the most naturally beautiful locations in the world. From new five-star villa resorts to chic glamping tents and more, holidaymakers will be spoilt for choice on an island getaway to Indonesia.
The magical beach destination of Bali, one of Indonesia's most popular islands for UK visitors, has welcomed several new properties in 2013. These include Amarterra Villas Nusa Dua, a stylish resort comprising 39 villas with a traditional design inspired by the 13th-century Majapahit Empire on the Nusa Dua south coast; Regent Bali, a new all-suites beachfront resort in Sanur, featuring 25 Regent Residences and a private two-bedroom villa with butler service; the 118-room Le Méridien Bali Jimbaran which combines elements of traditional Jimbaran heritage with modern features, including rooms decorated with liquid art imagery by German artist Markus Reugels; and One Eleven, a private villa sanctuary in Seminyak, offering nine secluded villas each nestled within a garden plot with their own 14-metre pool and spa gazebo.
Also in Bali, the Nikki Bali Resort & Spa has completed a major expansion project and will now be named the Grand Nikko Bali. The 'Grand' rebranding, effective since 15th July 2013, is intended to reflect the hotel's upgraded facilities, including 19 new luxury villas, a multi-purpose event space and a wedding gazebo holding up to 30 people. Those looking for accommodation in touch with nature will find new stylish places to stay under canvas in Ubud. Opened by Sandat Glamping in June 2013, there are five eco-friendly tented lodges and two safari-style suites, decorated in Balinese style and set around a private infinity pool within a tropical garden overlooking a forest of coconut palms.
Looking ahead, the Rimba Jimbaran Bali is due to open under the management of the Capella Hotel Group in late 2013. An adjacent sister property to the Ayana Resort and Spa Bali, the new resort will house 297 rooms and suites, as well as a rooftop swimming pool and dining venue. GHM has also unveiled plans to open its largest Chedi-branded hotel at the end of 2013. The Chedi Sakala will offer 247 suites and 14 exclusive pool villas when it opens on the tranquil beaches of Tanjung Benoa on the Nusa Dua peninsula. It will be the third GHM hotel to debut in Bali.
The spectacular destination of Bali will further boost its tourism portfolio with even more luxury hotel brands in 2014. Ritz-Carlton will return to the island next year with the opening of the Ritz Carlton Bali on Sawagaon Beach in Nusa Dua. The deluxe hotel will boast 313 rooms including 90 suites and 14 villas, plus an additional 10 cliff-top villas with amazing views across the Indian Ocean. A new Japanese-style luxury resort is also due to open near Ubud in 2014. The Hoshinoya Bali will offer 30 villas set in an area of natural beauty with amazing views of the surrounding tropical forests, spiritual temples and rice terraces. The resort will have a key focus on "Omotenashi", the trademark Japanese style of hospitality.
"We are delighted that so many world-class companies are recognising the beauty and potential of our picture perfect island," comments Ms. Esthy Reko Astuti, Director General of Tourism Marketing, of the Ministry of Tourism and Creative Economy. "We are very excited to welcome these wonderful properties to our ever-expanding tourism portfolio, while presenting an even wider choice of accommodations for those looking to Bali for weddings, honeymoons, vow renewals or simply to enjoy a very special holiday with family, loved ones, friends or in their own company."
For further information on the Republic of Indonesia, see indonesia.travel/en.