Mile High goes long haul - East Africa meets West London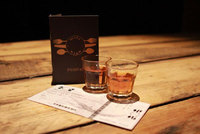 After the buzz and excitement of Gothenburg, Beirut and Sicily, the next stop on Mile High's globetrotting tour takes inquisitive guests on a culinary adventure to the sandy shores of the Indian Ocean: Destination Mozambique. A first for the London pop-up scene.
Inspired by Maputo's lively Mercado Do Peixe, Mile High's fourth event gives a Luso-Mozambican splash of colour to a secret West London venue. Accompanied by a jaunty bossa nova and fado soundtrack, diners will enjoy an evening of thirst-quenching summer cocktails and exquisite seafood, cooked to fiery perfection over hot coals by honorary gajo Ollie Templeton. Expect daring flavours, ingredients you've never heard of and Ollie's own eye-watering Piri Piri sauce.
All this in an intimate dining space, brought to life by Mile High's design team with inventive touches from Mozambique's Belle Époque. The only thing missing will be the warm sea breeze - though with the gorgeous weather of late, anything is possible...
Destination Mozambique first opens its doors between 18th – 21st September, with a return trip scheduled from 25th-28th September 2013 and 2nd -5th October 2013.
Mile High is inspired by the golden age of 1950s air travel, when legroom meant doing the twist and turbulence was a byproduct of the bar steward's cocktail shaker. On arrival, air hostesses in gorgeous Pan Am-inspired attire will welcome guests to the retro African departure lounge, home of Mile High's airborne DJ division. Diners can enjoy 'check in' cocktails from sponsors Campari, Aperol, Wild Turkey and Skyy and gourmet bar snacks served with pencil moustaches and a smile before embarking on Mile High's chosen foodie destination. Access to the departure lounge bar will be available from 6.30pm for non-diners to enjoy cocktails and tunes spun by one of Mile High's talented guest DJs and boarding will be called at 7.30pm sharp.
Mile High is brought to London by Shuttlecock-inc, four cousins from the creative Templeton family: Anna, Ollie, Will and Ed who share a wealth of experience from the event, theatre, culinary, cocktail, music and advertising worlds. The Mile High lounge and inflight dining area have been styled with the expert help of vintage furniture suppliers, MAR–DEN, and one of the UK's longest surviving bespoke lighting manufacturers, David Hunt Lighting.
For the ultimate African adventure, all aboard Mile High for a raucous Bossa Nova banquet.
Destination Mozambique
8th-21st September, 25th-28th September and 2nd – 5th October 2013
Dinner Ticket £65
Departure Lounge ticket £5
The bar opens at 6.30 and boarding is called at 7.30pm sharp.
Ticket Prices
Destination Dinner ticket - £65 (Wed to Sat) - Included in the price is a classic cocktail, a four-course meal prepared by ex-Moro chef Oliver Templeton and his team, two glasses of wine with supper and music from Mile High's airborne DJ division. You may also be lucky enough to have a drink with the captain. The bar opens at 6.30 and boarding is called at 7.30pm sharp.
Departure Lounge tickets - £5 (Wed – Sat) Eating's cheating? Our departure lounge ticket gets you a lovingly-made Campari cocktail on arrival and an evening of music courtesy of Mile High's airborne DJ division. The lounge opens at 6.30pm and closes when the captain says 'doors to manual', (Wed-Thurs 12pm, Fri-Sat 1am).
For booking tickets, go to designmynight.com/london/dmh-mozambique and select either 'Bar Experience' or 'Dinner & Bar Experience'.
For further information visit Mile High's website dinemilehigh.com.