AA 'reinvents' the wheel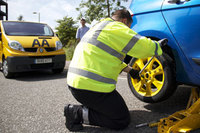 With close to a fifth (17%) of AA members not having a spare wheel in their car, the AA is trialling a 'universal' spare wheel to allow members to continue their journey with minimal disruption.

The innovative wheel is the first of its kind in the UK and fits the majority of modern cars with a five-stud wheel. The 17" alloy uses a system of special adaptors of ten different sizes to find the best fit.

Punctures and other tyre-related issues are the AA's second-most common call-out - after batteries - averaging 35,000 a month or more than one in ten breakdowns.

Donald MacSporran, the AA's head of technical, says: "Although punctures are thankfully rare for most drivers, you can't beat the convenience of a spare wheel.

"If your car doesn't have one, we can sometimes perform a temporary repair at the roadside or take the damaged wheel to a local tyre fitter but this can take time. The 'universal' spare offers a more convenient alternative by allowing you to drive to a local tyre depot yourself or continue your journey with the minimum of fuss.

"The patrol will reclaim the spare from the tyre depot or it gets couriered back to us after you've finished with it."

The nationwide trial is the latest innovation by the UK's biggest breakdown provider to further improve its ability to fix cars at the roadside. In the last 12 months alone, the AA has invested around £15 million in patrols' training, equipment, technology and vehicles.