Toyo Tires releases new R888R ultra high performance road and track tyre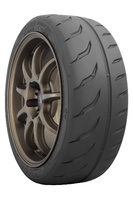 Japanese tyre manufacturer Toyo Tires has announced the UK launch of its hotly anticipated road-legal track tyre, the Proxes R888R, at the Autosport International show on the 8th January 2015.
This all-new tyre, which will eventually replace the best-selling Proxes R888, has been improved in every single area. The outgoing design, which will continue in many sizes as the new model rolls in, was an incredibly successful all-round tyre, giving exceptional dry grip, but combined with unusually high adhesion levels in wet and cold conditions. This 'master of all trades' demeanour made the original R888 the choice of dozens of club championships as control rubber, as well as the 'go to' solution for most performance car enthusiasts. It even made it as the OEM choice for RenaultSport on the unhinged – and superbly capable - Megane R26R.
The Proxes R888R has big shoes to fill then, but this new tyre has been totally re-engineered from a clean sheet of paper in order to create a tyre that performs even better on track, but surprisingly, remains one of very few tyres commercially available, along with the original R888, that will surpass the latest tyre labelling regulations that came into force on the 1st November 2014 - making it totally legal to use on the road as well as the track. Put simply, almost all other manufacturer's 'semi-slick' tyres produced from this date, are fine for track, but will be illegal to use on the road.
The 'GG' compound of the new tyre has made it onto the approved tyre list for road legality, but also, Toyo has managed to have the even grippier 'SG' compound approved in certain sizes. This super-sticky compound has proven to be a huge seller in sprint and hill-climb markets in the past, and is particularly popular with lightweight cars like the Caterham and Westfield.
Produced in 32 sizes initially, the new Proxes R888R takes track performance and grip to a whole new level, with a fast warm up time, increased dry grip and sustained performance over multiple laps and heat cycles. A rayon 'super-high' turn up ply on some sizes, combined with steel side plies, give the new Proxes R888R precise steering response and feedback to the driver allowing full control in order to optimise lap times.
Here in the UK, Toyo performed exhaustive testing of the R888R with BTCC and British GT driver Tom Onslow-Cole prior to sale. These tests benchmarked a wide range of sports and club racecars against not only the outgoing R888, but also against the best of the opposition – with highly encouraging results.
Commenting on the new tyre, Toyo UK Technical and Motorsport Director, Alan Meaker said, "The Proxes R888R really is a very complete solution for driving and trackday enthusiasts – as well as serious racers. The new labelling regulations mean that this tyre now stands alone in the market as a competition-quality design that can be legally drive to and from the circuit. This makes it perfect for trackday and club race use. Judging by its improved performance in all areas, we think it will be every bit as popular as its forebear."
For more information on this tyre, or to find Proxes R888R dealers, visit Toyo.co.uk.