Toyo Tires takes Isuzu class title in the British Cross Country Championship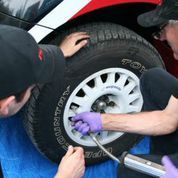 The MSA Britpart MSA British Cross Country Championship (or BCCC) may be one of the toughest motorsport arenas in the UK, but it's still no match for the unstoppable traction and durability of Toyo's Open Country All Terrain tyres. As fitted to the Jewson-Isuzu UK works rally truck, the tyre proved to be a huge part of the team's success in taking the overall production class title this year.
At the hands of seasoned race and rally driver Jason Sharpe, the team has set impressive times all season, despite the terrain and weather over six gruelling rounds providing one of the toughest challenges on the UK motorsport calendar. Impressively, the team's Isuzu D-Max truck maintains its factory chassis, engine and gearbox and proved to be more than up to the job of cresting the various bumps, hills and gravel troughs that stopped many lesser vehicles – some of which had been custom-built for the series.

Throughout, the tyres gave an exemplary performance; not only providing peerless traction and control on every kind of stage surface, but also managing to remain impervious to punctures on most of the rounds. Quite a feat for a road-legal tyre! Thanks to the inspired combination of great traction, reliability and driving talent, Jason was able to battle his way to 1st overall in the production class, as well as first in the pick-up category and 7th overall - splitting the field of many more powerful, purpose built machines.
Commenting on the performance of the Toyo rubber, Jason said, "The Toyo Open Country All Terrain really has been an integral part of our success during this first season. Grip and control is everything in rallying and Toyo's Open Country case really delivers both, while proving to be incredibly hardy and able to shrug off the myriad of razor sharp stones that have taken so many of our competitors out at each round. A puncture can cost valuable time, and often means a loss of position on stage, so for us to make it through so many events this year without incident is most impressive!
For more information on the Toyo off-road tyre range, visit toyo.co.uk.

For more information on the Isuzu D-max, visit isuzu.co.uk.