Culinary Capital: The latest arrivals to DC's booming restaurant scene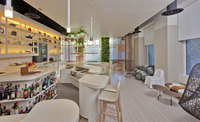 A boost to its culinary credentials, Washington, DC now boasts more than 2,000 top dining spots, not to mention one of most varied, colourful and unique culinary scenes in America. From Contemporary American, Mexican, French and Mediterranean to Italian, Southern, seafood, Spanish, California and Pan-Asian, to name but a few, travellers will find the capital spot which whets their appetite here.
1. Barmini
Sitting proudly in DC's Penn Quarter is Barmini, the latest venture from Jose Andres, America's award-winning TV and celebrity chef specialising in Spanish cuisine. Affectionately dubbed as the 'boozy sibling' to his DC restaurant, Minibar, the new and intimate 27-seat bar extends the restaurant's cosmopolitan experience, taking guests back in time to the 'golden era of cocktails' with a menu of 100 classic and extraordinary recipes, with everything from the well-known "Manhattan" to the more obscure "Cotton Candy", all served in uniquely-shaped stemware.
An experience reserved for true cocktail connoisseurs, the bar even features a $15,000 distiller capable of isolating the flavour of anything organic, from peanuts to a banana, or even dirt. Designed by Barcelona-based designer Juli Cappela, the bar's uber stylish interior features everything from moulds of Andres' hands which protrude from the walls holding organic produce, to cactus chairs and a 'people watching' window overlooking the restaurant. Based on the concept of a Minibar, the six-seat molecular gastronomic-focused restaurant-within-a-restaurant offers avant-garde cooking.
2. Del Campo
If smoke is the flavour of the day, then char is the signature colour. Del Campo is already one of the city's top South American restaurants. Launched by Chef Victor Albisu this year, the restaurant is based on his interpretation of the food and lifestyle at a vineyard in South America. Savour delights on the bold menu, which showcases an array of flavours which Albisu picked up on his travels through Argentina, Chile, Peru and Uruguay. This award-winning chef is not shy about licking his ingredients with fire; olives, pea shoots, tomatoes, radish, bread and all manner of beasts feel the heat.
Located in DC's Chinatown, the 174-seat meat and wine centric restaurant also boasts the Asado Bar, which offers tasting menus to be enjoyed overlooking the Gallery Kitchen's open flame. Their cocktail menu features citrus fruits, grilled until they're caramelized, then juiced and shaken. Learn more about South American cooking and cocktail making on a cooking master class here.
3. Etto
This new Sicilian restaurant in Logan Circle is gaining a name for itself as one of DC's best Italian and pizza restaurants. A partnership between two of DC's most lauded establishments, the 43 seat restaurant's soulful and rustic dining room offers guests culinary treats in the form of a series of small Italian dishes, pizzas and cocktails. Everything but the preserved anchovies is produced in-house, but that's only a matter of time.
Behind the bar, a large mill grinds grains for bread and pizza. Etto's house cocktail is a Negroni with DC's Green Hat Gin and house-made semi-sweet vermouth. Sample beautifully composed salads, an array of fine salumi and of course pies fresh from a brick oven. Anchovies make an appearance on many dishes. Notably, one of the partners, the James Beard Award-nominated Peter Pastan serves his own wine from his property.
4. Range
Launched by popular and award-winning chef, Bryan Voltaggio, Range offers and array of cuisine, prepared using seasonal ingredients from the Mid Atlantic Region. Once mentored by famous American TV Chef, Charlie Palmer (who also has a restaurant in DC), Voltaggio is a culinary master. Based in DC's Friendship Heights neighbourhood, the unique design of the restaurant creates an air of intimacy, despite its large size, and overlooks a 30 by 60 foot "synchronized LED Wall" of changing art.
This up-market venu also serves delicious seafood dishes such as shellfish freshly caught from the Capital Region's Chesapeake Bay. There is a bakery counter, a candy shop, a full bar, two master sommeliers (the only other restaurant in America to stock two is the French Laundry), a charcuterie bar specialising in American ham, and many regional treats.
5. Vendetta
One of the latest real Italian Bistros on the scene, Vendetta offers a mouth-watering array of authentic (not inspired) Italian pastas, pizzas and meat. Situated in the H Street Corridor Neighbourhood, guests will enjoy simple fare served as the Italians would enjoy in their homeland. Ingredients are locally sourced or home made. Popular produce ranges from meatball and turnip ragu to seafoods and walnut kale pesto.
Bringing home the Italian theme, the Bistro's design is featured around the Vespa and the ancient Roman sport, Bocce. The stylish interior compliments this theme, boasting an up-market yet shabby-chic dining atmosphere. In fact, Vendetta even features real Vespas which hang from the ceiling, and Bocce courts. Ideal for a quick game after lunch, the courts are free to use with the purchase of one of the bar's crisp cocktails.
To find out more about Washington, DC and the Capital Region USA, visit CapitalRegionUSA.co.uk.