Where to Ski and Snowboard 2014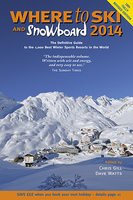 The best snowsports holidays don't begin on the piste, they really take off on your sofa: that's where the planning starts and the excitement slowly builds. Thankfully, you can have at your side a personal guide to the thrills and spills of more than 1000 resorts all over the world.
Where to Ski and Snowboard 2014 is the most eagerly awaited guide to the winter holiday season. Not only will it help you discover the resort that is perfect for you and your budget, thanks to its innovative Resort Price Index (RPI), but it will also give you the full rundown on everything from local terrain to lift passes.
Dedicated to giving incredibly detailed and uncompromisingly honest assessments, Britain's only annual ski resort guidebook comes as a brand new and completely revised 18th edition and is published on 2nd September 2013.
Inside, among hundreds of mountain maps, street plans and hotel ratings you will find every chapter features photographs that perfectly convey each resort's character – as well as brutally frank verdicts on the slopes and all of the local facilities.
A key feature is the piste maps; for 30 main resorts – these are displayed over a double-page spread with key aspects of the mountains clearly highlighted. This year, too, you can also learn the truth about the great – or not so great in some cases – piste size scandal . . . with some resorts claiming over double the km of pistes they really have.
The much loved and oft quoted RPI, meanwhile, has the full facts and figures to budget for your holiday and covers not only food and drink but also the costs of lift passes, ski hire and lessons.
It should come as no surprise to readers that not only are the book's co-editors experienced and highly respected ski resort evaluators, but Dave Watts has been editor of Which? magazine and Chris Gill editor of Holiday Which? and then The Good Skiing Guide.
Co-editor Chris Gill says: "Since we both learned our craft at Consumers' Association, you can count on impartiality and accuracy in Where to Ski and Snowboard. We leave nothing to chance and check and double-check every last fact: that means you can now plan and enjoy the holiday you've always dreamed of."
Dave, now executive editor of Britain's leading snowsports magazine Telegraph's Ski & Snowboard, explains: "This 2014 edition, just like all of our previous annual offerings, is as bang up to date as possible – readers will be certain of having the very latest information, right down to last-minute improvements and changes carried out by resorts ahead of the forthcoming season."
With such incisive and meticulous judges behind Where to Ski and Snowboard 2014, you can rest assured this book is the best holiday planning pal you'll ever have. Of course, being so versatile, it is also the perfect travel companion – so you can bring your own 24/7, personal guide on holiday.
Where to Ski and Snowboard 2014 is published by NortonWood Publishing, priced £18.99. The book is available from all good bookshops and many equipment shops or online at a heavily discounted price from wheretoskiandsnowboard.com.