Prosciutto Month at Sartoria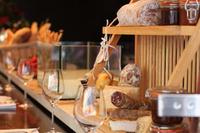 Inspired by the Prosciutto festival in Parma during September, the team at Sartoria is bringing a slice of Italy to the capital with its very own Prosciutto Month. To celebrate one of Italy's greatest exports, Sartoria will be hosting a series of events, as well as specially created menus throughout September.
Head chef, Lukas Pfaff will begin the celebrations with an evening of prosciutto in the Sartoria bar on Thursday 5th September. Three different types of meat will be sliced including the 'King of Hams', Culatello di Zibello, and will be paired with a variety of dishes devised by Pfaff to complement the star of the show. Lukas will also talk about the history of prosciutto during the event, and will guide guests through the production methods and the different varieties available.
Head sommelier at Sartoria Michael Simms, will also be hosting an evening dedicated to prosciutto on Monday 16th September. Prosciutto canapés will be served at Michael's monthly wine tasting event whilst he touches on the wine offerings of Italy's islands.
Sartoria's à la carte menu will also feature a sharing prosciutto crudo antipasto misto, highlighting the different prosciutto meats from around Italy, including Tuscan ham, Prosciutto Pio Tosini and Culatello di Zibello.
To book your place at either event email katieb[at]danddlondon.com
Sartoria
20 Savile Row, London, W1S 3PR
Web: sartoria-restaurant.co.uk