Bilstein Porsche 928 B6 sport damper upgrades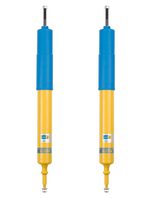 BILSTEIN, the hugely respected suspension manufacturer has released details of its extensive range of damper upgrade for Porsche's ultimate GT; the 928. BILSTEIN's vast range of B6 Sport units are available to fit 4.4, 4.6, 4.7, 5.0 and 5.5 litre variants in all S, S4, GT and GTS guises. BILSTEIN are an OEM supplier to Porsche and are the first choice of many enthusiasts looking to equip their cars with the best possible solution.
Rapidly becoming a collector's favourite – and possible future investment material, the 928's immense mass can benefit significantly from an improved damping set-up, making it faster through the turns and more rewarding to drive.
Although Porsche endowed the couth GT with impressive handling from the factory, BILSTEIN has used its enviable knowledge and experience to create the ultimate upgrade that maintains the character and comfort of the original car, but with a sharper focus on driving precision. BILSTEIN's B6 Sport damper package helps to significantly enhance the dynamic abilities of the 928, working in perfect harmony with either the OEM springs or any quality aftermarket offerings. With the factory units now doubtless very tired and performing below par, the B6 BILSTEIN Sport units will help to create a 'better than new' feel in ride and handling terms.
The BILSTEIN B6 range is designed for those looking for more damping capability, with improved handling and reduced squat and dive, without ruining everyday ride comfort. Using the very latest in BILSTEIN gas pressure technology and precision twin-tube construction, each unit is hand finished in BILSTEIN's German factory to surpass even the most stringent of OEM production standards.
Offering significantly greater service life than the standard part, the BILSTEIN B6 dampers also increase active safety through more efficient braking and better traction. Ideal as service replacements, or the perfect way to improve a cherished car, the BILSTEIN kit works on every level.
For more details, visit bilstein.de.