New accommodation in Savoie Mont Blanc for 2013/14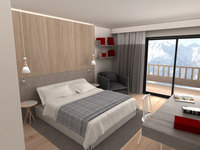 The Heliopic Sweet & Spa, is a new four-star hotel in Chamonix. Built in a chalet style, it will open in mid-December. Located just a few metres from the Aiguille du Midi lift station and facing Mont Blanc, the Heliopic Sweet & Spa has 102 bedrooms. The decor is classy and cosy, with a touch of 50s and 60s style. The hotel has a 500m2 spa with a pool, a water-wall, a steam room, an ice-cave and several treatment rooms. The Heliopic Sweet & Spa is a family-friendly hotel with specific fun areas with games for children. heliopic-hotel-spa.com
In the heart of the Jardin Alpin in Courchevel 1850, five-star hotel L'Apogee will open on 11 December 2013. Made of 33 suites, 20 spacious bedrooms and a penthouse with a private terrace, L'Apogee offers all the comfort and luxury one can expect from a five-star hotel. It also has a private chalet by the hotel with five bedrooms and a cinema.
L'Apogee is a ski-in, ski-out hotel, with private access to the slopes for its guests. The hotel's restaurant is supervised by two Michelin star chef Yannick Franques. The hotel's spa has four treatment rooms and a suite for the traditional Russian ritual 'Banïya'. lapogeecourchevel.com
In Courchevel 1850 as well, Le Petit Palais is a new luxury chalet, ideally located on the Bellecote slope and just five minutes from the resort's centre. Le Petit Palais has seven bedrooms over six floors, a cinema, a bar, a nightclub and a spa with a 13m long pool, as well as a Jacuzzi, a sauna, a steam room, a massage room and a fitness area.
The Koh-I-Nor is the name of the 105.6 carat diamond set in the Queen of England's crown, and it's also the name of Val Thorens' new five-star hotel. In Persian, this name translates as "mountain of light", which perfectly sums up this new hotel's unusual architecture. Situated on the mountainside and built largely from glass facades, the Koh-I Nor will be bathed in light and will offer beautiful views over the Alps.
The hotel has 56 rooms and suites, a spa offering Valmont treatments and beauty products and a gastro restaurant. hotel-kohinor.com
Located in the centre of Samoëns, Le Grand Cerf is a new three-star hotel with 6 suites and Savoyard decor. Each suite has a private terrace with beautiful views over the mountains. The hotel has a spa with a swimming pool and a sauna. samoens.com
In Val d'Isère, Le Bellevue Hotel has become the Maison de Famille Les 5 Frères.
Le Bellevue, Val d'Isère's second hotel, was opened in 1936 by Cecile Mattis. Her son Roger and his wife Yvonne helped her to run the hotel. Their five sons were born and grew up in the hotel. Today, the Mattis family has decided to turn the hotel into a 'family house' that tells the story of the five brothers.
This family house has 17 bedrooms and flexible spaces to accommodate groups and families. Family activities such as sledding or slalom contests can be organised by the Maison de Famille Les 5 Frères. Guests can take their dinner in the house's dining room, 'La Table d'Yvonne'. les5freres.com
Lagrange is opening a new residence in Pralognan-la-Vanoise. Located at the bottom of the slopes, Les Haut de Vanoise residence is perfectly integrated into the protected environment of the resort. Made of wood and stones, the residence has 84 apartments, ranging from studios for two to duplex apartments for ten. The residence has an indoor pool, a sauna, a steam room, a hot tub and a fitness room.
A new MGM residence called Le Kalinda is opening in Tignes 1800. Situated in the heart of Espace Killy's new village, the new residence has 108 apartments and an Ô Des Cimes spa.