Oyster 'market' at Pescatori Charlotte Street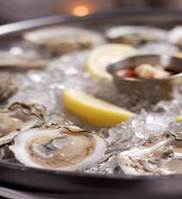 September, and the new season oysters are here. Italian and seafood ristorante Pescatori at 57 Charlotte Street, W1, is celebrating from 10 to 20 September with an inviting market-style stall located in its alfresco area. From here guests can make their selection, and a platter will be brought to their table. Those who may just fancy an oyster 'on the go', can also choose from the individually priced display without having to sit down, and oysters will still be traditionally served with tabasco, lemon and black pepper there and then.
From the tempting and inviting display, the stall will offer Jersey Rock Oysters at £1.50 each, Scottish Native Oysters No. 2 at £2.50 and West Mersey Rock Oysters at £2.10.
Executive chef Chris O'Neill explains: 'Our waiters will be on hand to shuck and serve, and to explain the difference between the Jersey Rock Oysters where the meat is supple, crisp and very savoury, the Scottish Native No. 2, flat and round in shape, delicate but with a firm textured meat, and the West Mersey Rock Oysters which, as the name suggests, look like a rock, a jagged oyster with a salty finish and extremely plump meat'. 'Whether guests choose to come into the restaurant and enjoy a platter at the table with a glass of wine, or just want to 'grab and go', everyone will get the same attention' he continues.
The oysters served at Pescatori are sourced from some of the cleanest waters in Europe. Jersey oysters are harvested from the Royal Bay of Grouville on the east coast which gets an influx of clean sea water daily, Scottish Native No. 2 come from the award-winning Loch Ryan fishery and West Mersey Rock grow wild in the river Blackwater.
Sister restaurant Pescatori Mayfair will offer the same oyster selection from the kitchen. Proseccos, champagnes and crisp white wines are available by the glass from £5.25 for 175 ml, to perfectly complement this seasonal taste of the sea.
Pescatori, 57 Charlotte Street, W1T 4PD
Pescatori, 11 Dover Street, Mayfair, London W1
Web: pescatori.co.uk