Discover the slopes of Japan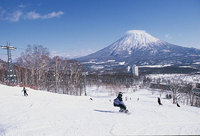 As Japan is known more for its contrasting futuristic high-tech cities and ancient culture and traditions, the country's ski resorts remain a well-kept secret. However, interest from UK powder buffs is rapidly increasing as skiers and boarders discover the quality and quantity of the Japanese snow.
Japan's white stuff is renowned as some of the world's lightest, driest and fluffiest, and is as reliable as the country's trains. The snow is so good that Japan has twice hosted the Winter Olympics, in 1972 and 1998.
Japan's ski resorts are situated mainly on Hokkaido island (a 1½ hour flight from Tokyo), where the season runs from November-March, and on the main island of Honshu in the Japanese Alps (just 3½ hours from Tokyo by bullet train) from December-April.
Niseko, one of Japan's biggest and most popular resorts, located on the northern island of Hokkaido, received a total of 3,489 UK skiers and boarders during the 2012/2013 season, an increase of 127% on the previous season's total.
Why choose Japan?
No Crowds...Skiing in Japan is off the beaten track, so ski resorts are quieter than their European and North American counterparts, rewarding skiers with more time for runs.
Affordable...Despite Japan's reputation for being expensive, lift passes and food & drink at the resorts are reasonable compared with Europe and North America. A one day lift pass at Niseko costs approx. £40, a lunch can cost from around £6 and a beer is approx. £4.
Night Skiing & Tree Skiing...Many resorts across Japan offer excellent night skiing and Niseko is a great place to try out some of these floodlit runs, particularly for first-timers. Japan also offers some of the best off-piste and tree skiing in the world thanks to the Siberian weather system that brings in powdery snow, dumping on average 12 metres per season, which then accumulates between the trees.
Après-ski...The après-ski in Japan is as unique as the destination. After a day on the slopes, skiers and boarders can take a dip and soothe tired muscles in one of the many traditional, outdoor onsen against a backdrop of spectacular scenery and falling snow. Check out the famous hot spring in the village of Yudanaka in Nagano, which is exclusively for the snow monkeys! Alternatively, spend an evening in a karaoke bar or warm up with a sake or two.
The Sapporo Snow Festival (5-11 Feb,2014 free snowfes.co.uk) ... Around two million people come from all over the world every year to see the giant snow sculptures, crafted from some 30,000 tons of snow. In addition to the sculpture competition, the festival includes an outdoor ice rink, a snow maze, snow slides and snow golf. Nightly music concerts and snowboard jumping shows also take place.
James Greenfield, managing director of Japan Journeys, comments: "With perfect snow and quieter slopes, Japan should be on every skier and boarder's radar. Skiing in Japan is surprisingly affordable and a serious alternative to more well-known European, American and Canadian resorts."
DETAILS: Japan Journeys offer a 6-night Niseko ski package from just £1,595pp. The price includes return international flights to Sapporo from Heathrow, B&B accommodation, a 'meet and greet' service on arrival plus airport transfers to Niseko. Japan Journeys also offers a generous 23Kg baggage allowance and free additional ski/snowboard equipment allowance. A one-day Niseko All Mountain Ski Pass costs ¥6000 (approx. £40 / 3-day passes cost ¥16,200 (approx. £106)
For more information, visit japanjourneys.co.uk.