Celebrate Halloween at Bluebird's Pumpkin Patch this October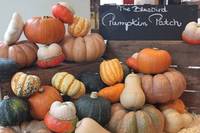 This October, Chelsea is coming over all American with a whole host of Halloween horticulture, tasty baked treats and events on offer at the Bluebird Epicerie and Cafe.
From 17th - 31st October, the quaint food and wine shop located next-door to the renowned neighbourhood Bluebird Restaurant and Café, will showcase an American-neighbourhood-style pumpkin patch. Boasting bright orange pumpkins, the cosy terrace area will be overcome with a mixture of scary and smiley Halloween characters from which the public can come and pick one to purchase.
Throughout the two week period, customers can purchase a range of ghost cakes, bloodcurdling biscuits and pumpkin pie, alongside other Halloween-themed home-baked goodies. The charming food store will also host a kid's pumpkin-carving master class on 29th October, teaching them how to scare off ghosts and ghouls by carving frightening faces and shapes into the squash. Priced at £15 per child, children will also enjoy a mini pastry, hot chocolate and juice before taking their personal pumpkin home. If that isn't enough, Bluebird Epicerie will have a big jar of special (trick or) treats that children can help themselves to on 31st October throughout the day.
Additionally, will be serving Halloween inspired dishes such as a heart-warming pumpkin soup and a selection of healthy Halloween juices, including a bright green kiwi 'frogspawn' smoothie and blood-red berry smoothie. For those more devilishly-inclined, 'Serial-killer' cocktails will be available to order from 17th – 31st October, and instead of the traditional tiny tea, the Café will be serving a 'spooky special', replacing classic English scones with 'ghost' cupcakes. As well as this, Bluebird Cafe will play host to a night of scary speed-dating; a Halloween themed evening dedicated to helping singletons find love amongst the cobwebs; serving Halloween punch, canapés and a glass of bubbly on arrival, this twist on the popular Bluebird event is not to be missed.
Attracting family, friends and singles-ready-to-mingle alike, Bluebird Chelsea is the ideal destination to head this Halloween holiday.